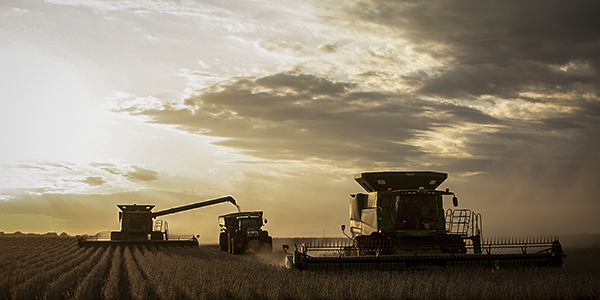 Crop Progress: Central Corn Belt
Northern & Western Illinois – Steve Crafton
Soybean harvest has gone exceptionally well for farmers in Illinois. Western Illinois is around 90% done with harvest and northern Illinois farmers are about 85% done. Yields have been all over the board depending on planting date and who caught August rains. Xtend® Soybeans available from LG Seeds are really flexing their muscles and showing big yields. If you have a good herbicide program and have weeds under control, I would lean towards staying with proven agronomics and yield potential. If some of those fields need a little extra help with weed control LG Seeds also has an excellent lineup of XtendFlex® soybeans, providing a 1-2-punch of Dicamba and Liberty herbicide resistance.
Corn harvest is about 55% complete in western Illinois and about 45% complete in northern Illinois. Yields again have been all over the board with the weather we experienced plus compaction from last season. Another obstacle that hurt corn yields was the two weeks of 90+ degree weather and 70+ degree nights during grain fill. Corn following corn is taking a negative hit this season, as well. I am hearing that mid to later planted corn is pumping out better yields, just like last season. Remember the weather around the last two Mother's Days were very cold with freezing temperatures and ice and snow in some areas. We had corn both years hanging out underground for 3 weeks waiting for soil temps to warm up to emerge. This leads to uneven emergence and later plants that become half ears at best. Corn yields aren't negative overall, but a majority are seeing a 10-15 bushel drop from last season because of the challenges we faced throughout the year. LG51C48, LG57C33, LG59C72, LG59C66, LG5643 and LG5650 are consistently yielding well in whole field averages.
South Central Illinois – Brian Weihmeir
We've been experiencing dry weather that lets most farmers continue with soybean harvest basically uninterrupted. Many of the soybean acres have been harvested, except for a few double crop acres or later plantings. Soybean yields have been variable this year due to the spotty rains we experienced in the month of August. Aside from the variability in yields, the Xtend soybean varieties have performed very well, including some of the mainstay varieties like 3550RX, 3777RX and 4227RX. Many farmers are excited about the transition into some XtendFlex varieties next season to maintain yield potential and have flexibility in weed control.
Western Illinois is seeing excellent corn yields due to timely rains and excellent growing conditions. Moving into central Illinois and south central Illinois, yields have been good. Maybe not record yields, but still a solid crop. Fungicide applications in corn have shown a good response due to Northern Corn Leaf Blight moving in, mitigating stress and maintaining plant health toward the end. Hybrids that have shown good consistency this year across the region are 59C66, 5618, and 5650. A new hybrid that has shown excellent top end yield is 62C35VT2RIB. With its plant health, stress tolerance and ear flex, it has been a great option as we move south of I-72.
Looking forward we anticipate having good progress made across the area, assuming we maintain good weather. The big bonus to having dry weather is minimizing compaction on our fields to set ourselves up for a good year next season. As you begin to plan for next season, the LG Seeds Mix Matters Tool is a great place to start having those seed placement conversations with your STAR Partner dealer. Until then, I hope everyone has a safe and successful finish to their harvest season.
East Central Illinois – Jim Rowley, CPAg
Soybean harvest is nearly complete in east central Illinois. As expected, both insects and disease has impacted this year's yields. Farmers that sprayed fungicide to suppress bean leaf beetles and various disease have been rewarded with a 10-15 bushel yield advantage. The fuller season maturity groups ranging from 3.5-3.7 tend to take the top honors at most plot locations. Initial yield data suggest that early planting dates are not as beneficial versus prior year yields.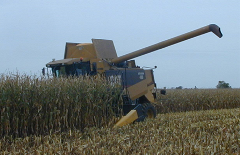 The corn crop has responded to this years' variable weather with variable yields. Farmers are reporting record yields on some fields yet seeing lower yields at other fields. Just as seen in soybeans, applications of fungicide are revealing solid yield response. A multitude of disease is present in this year's crop including Grey Leaf Spot, Southern Rust, Northern Corn Leaf Blight, Tar Spot and Anthracnose.
Mid-South and Delta Regions – Dan Mitchell
Harvest continues at a steady pace across the Mid-South and Delta areas. Most of these areas have had very good weather for getting crops out of the field. Only recently has much of the area had to stop and wait a few days for harvest to continue. Much of the Delta is finished with harvest, aside from the cotton and rice fields.
Yields have been better than expected, especially on soybeans. From north to south up the Delta yields are 10-15 bushels better than average on beans. Most of the soybeans yet to be cut in the Mid-South are double crops and even they look very good.
New products like 66C44 on corn and 4632RX on soybeans are quickly becoming favorites with their excellent performance over a broad area. The typical 1-2 punch of 5643 and 5650 across much of the region is once again making many farmers happy
With the warm wet growing season, we did have our share of both corn and soybean diseases. However, no major impacts were felt. Southern Rust came in late and scattered but did cause some fields to lose a little yield and grain quality. Northern Corn Leaf Blight was more prevalent in the Mid-South than in the recent past and Gray Leaf Spot was the usual hassle. Due to a lot of early planted soybeans, we got caught with some SDS issues but drier weather after these infections kept a lot of that in check.
With the good crop and slightly better commodity prices, 2020 has turned out better than expected for corn and soybean farmers in our area.
Northern Indiana – Phil Brunner, CCA
With a record number of early planted soybean acres this spring, harvest is nearly wrapped up in northern Indiana. A lot of the area saw an extended rainless late season, when we usually count on those August/September rains to really add that top end yield to soybeans. I know certain areas went 60+ days with no measurable rain, beating the records set in the drought of 2012. So, how were yields? Generally speaking, very good! Whole field averages in the 80's and 90's was fairly common. The hardest hit areas saw lower yields but things were pretty good overall. That speaks volumes on where we've come with soybean genetics. The proven advantage of the Xtend genetics really showed this year compared to other trait platforms. Now with XtendFlex being approved as well as over the top Dicamba herbicides for 2021, the choice is clear! XtendFlex is a continuation of the Xtend breeding that really brings strong agronomics and top-end yield, now with three herbicide options for tough to control weeds.
Corn harvest is much farther along in northwest Indiana (85-90%) than northeast Indiana (50%). This is largely due to different planting windows for the two regions. Yields across the entire area, when averaged, are pretty good and somewhat above average. Spotty rains gave some bin-busting yields, while others were well below average. Disease pressures most prevalent in this area were Northern Corn Leaf Blight (NCLB), Tar Spot, Gray Leaf Spot and Southern Rust. The severity of each is in that same order. NCLB was very widespread and certainly impacted yield on susceptible hybrids. We were able to get good ratings in our experimental hybrids that might be new commercial hybrids for 2022. The late dry spell really put the brakes on Tar Spot development. It was easy to find, but generally not at levels of economic impact. The exception is irrigated fields. They stayed wet and Tar Spot flourished. ROI on fungicides were pretty good in those situations. The data coming in on our Fast Track and Mix Matters hybrids is excellent! 51C62, 52C42 and 54C76 are a few all stars on the early side, 57C97, 59C72, 59C46 and 60C33 for mid maturity and 62C02, 62C35 and old standbys 5650 and 5643 are top notch in the fuller season category.
Ohio - Corey Prosser
Corn yields in Ohio have been record level yields for some and below average for most. This all deals with the weather we had in Ohio over the growing season. There are some products that have stood out. 57C97 has been very strong this year and has stood out in plots across the entire state. 59C72 has been one of the top preforming products in the state this year and has a lot of growers excited moving forward with this product. Another new product that has stood out has been 62C35. It has been performing very well in the southern part of the state and has looked strong agronomically all year. Older products that have also looked very strong include 5590, 61C48, and 5643.
Soybeans have been all over the board as far as yield goes. A lot of growers have had lower yields than they are use to with soybeans this year and a dry July and August are to blame. There are still a fair amount of soybeans left to harvest, but next week looks to dry out for us and may allow for more soybean harvest. Products that look good have been 3202RX and 3550RX. These two products have been preforming well across the board. 2888RX and 3777RX have also looked good in most locations but seem to have been impacted more by the dry weather and a lot of that follow planting date as well.
Central Illinois – Robby Meeker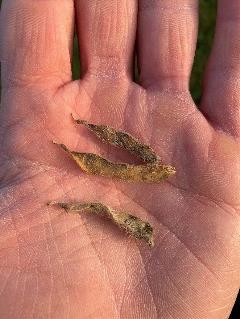 Harvest is nearing the end here in central Illinois, and as an estimate I would guess we are somewhere near 90% complete. We have seen yields in corn that are all over the board. We have had some areas that had yields that were better than expected and some areas lagging behind their APH 10 to 20 bushel. Soybean yields are bit disappointing compared to what we have seen in the last three years. We had so much potential on some of these soybeans that wilted away without any August rain. I attached a picture of a common theme below soybeans in August and September in central Illinois.
On the soybean side, guys that did the extras have really seen the benefits. Early planting, full seed treatment, applying a fungicide and insecticide at R3 have proven to be the smart thing to do the last few years, and 2020 was no different. Another big advantage was the yield gain with Xtend soybeans. We have seen multiple cases this year where Xtend and other trait platforms were planted within the same operation and Xtend has seen a consistent genetic edge. As we prepare for next year, I expect that Xtend and XtendFlex to be the go-to soybean for 2021.
Corn has had ups and downs this year, as well. The key to success in the good corn areas was to establish a good stand early and then catch a key rain later in the year. Fungicide and an in-season nitrogen application have also been good ROI items in 2020. Proven products 5650, 5618 and 62C35 have been consistent for us in 2020. New corn products that have stood out in plots have been 60C47, 60C33, 64C20 and 66C44. Look for these products to make a splash in a big way in 2021. PCR data and our local LG Seeds plots have shown that Mix Maker and Fast Track products have given us a taste of the AgReliant pipeline! Big things to come in an LG Seeds bag.