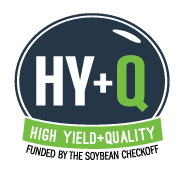 Product Information
LGS2444RX brings excellent agronomics and top-end yield potential. The product offers very good standability, good White Mold tolerance and strong Iron Deficiency Chlorosis tolerance. A medium-tall, moderately bushy plant.
This variety brings impressive yields and should be positioned for maximum yield potential.
A unique plant look from a medium bush plant style.
Resistant to BSR, SCN, PRR; highly tolerant to IDC, WM.
Very good stress tolerance.
Plant Characteristics
Emergence 9 Standability 8 Shatter Resistance 8 Plant Height M Plant Type MB Pubescence Gray Flower Color Purple Hilum Imp. Black Pod Color Brown
Management Tips
Suitable for no-till and minimum tillage, as well as all row spacings. Height is maintained under stress and this product is widely adapted to soils and planting regimens.
Management Practices
Poorly Drained Soils 9 Marginal Soils 8 Productive Soils 9 Adapt to No-Till 9 Early Vigor 9