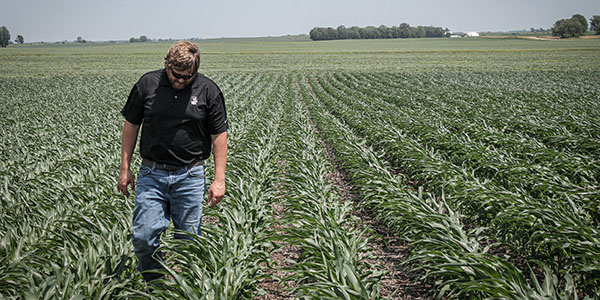 Surviving the Drought with my LG Seeds Internship
This week was one of my favorite weeks as an LG Seeds Intern. It was a week filled with marketing, team bonding and, of course, agronomy. I made plans to attend the LG Seeds Countdown event on Wednesday, so I stuck in Iowa for the week. At the beginning of the week, I found myself diving deep into a marketing project. My mentor showed me a library of branded photography that has been captured from the past few years. LG Seeds keeps all these pictures on file to use for content creation in various channels. Because there are thousands of pictures, it requires intense organization. I worked on sorting pictures Monday and Tuesday into specific folders in order to make it easier when someone is looking for a picture. I enjoyed working on this project because it allowed me to put my over-the-top organization skills to use – talk about satisfying!
Wednesday, you could find me on the golf course, hanging out and having a good time with the eastern Iowa region teams. It was fun getting to know more LG Seeds people, and hearing all about what their growing season has been like. Seeing everyone from the eastern Iowa region helped me understand the dynamics of how multiple LG Seeds teams work together to find success.
I spent the end of my week in western Iowa with Sales Account Manager, Chandler Nees, and Sales Account Manager, Mike Schrum. As we traveled the western side of Iowa, I started to see the effects of the very dry conditions we are experiencing in Iowa. Iowa is at the point where the entire state is in some sort of drought – central Iowa being the worst. The most interesting thing I learned about was leaf curling. I have always known about leaf curling, but never really understood what the plant as doing or why it was curling. Chandler and Mike educated me and told me leaf curling is a self-defense mechanism to try to lock in as much moisture as possible. While I was in Western Iowa, it was very hot and windy. Those weather conditions are when you see the most leaf curling. During the day, we checked out plots throughout the area to compare varieties to see how they were holding up in the drought. We also stopped at New Co-op and Landus Co-op, both which are LG Seeds Dealers for Western Iowa. I had a great time visiting with the dealers and farmers at the Co-ops. I mean, who doesn't enjoy sitting at co-ops talking about how to keep the crop at peak performance throughout the remainder of the season?
Be sure to catch up with my blog next week as I plan to get back on the road and head north to North Dakota and Minnesota.