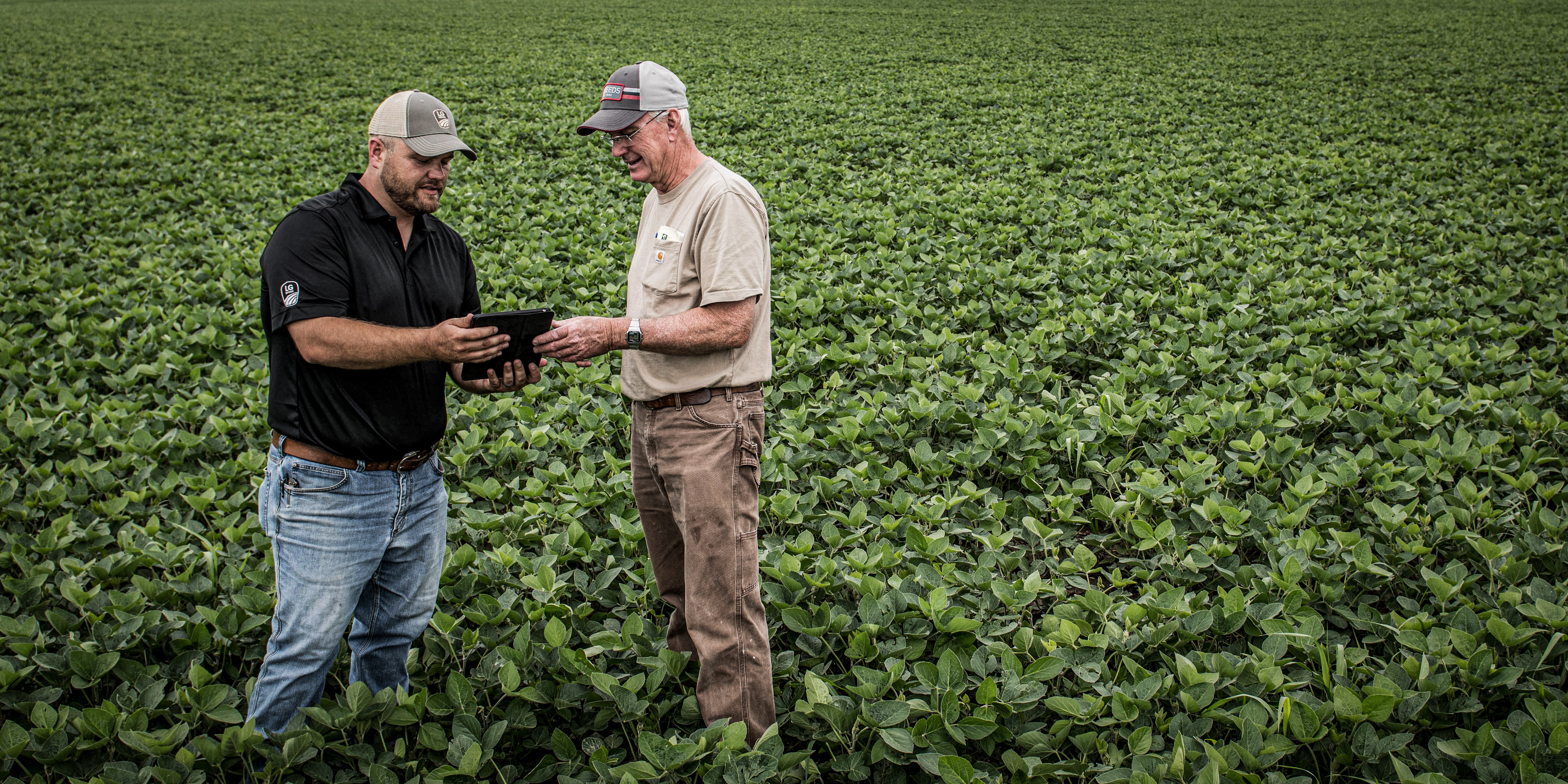 Crop Progress: Central to Eastern Corn Belt
Ryan Siracusa – NY, North East
We have had a near-record dry June and first couple weeks into July, causing some stunted crops. Corn and beans are short, but most are still hanging in there. We had a large rain event across the state last Saturday. Corn is just barely starting to tassel, and overall is looking healthy where it was planted in near-ideal conditions. Any early or wet planted corn is struggling to survive. Early planted beans are beginning to flower. Soybeans are just now showing some flea beetle, aphid and spider mite damage. We are seeing widespread potato leaf hopper in alfalfa all season due to the dry, hot summer so far. Wheat harvest is getting into full swing now so we may see some summer alfalfa seedings going in.
Berl Jastram – East MD, DE, Eastern VA, NJ
Corn is tasseling and silks are out looking good everywhere except Northern Neck of VA where it is very dry. Fungicide applications started last week.
Full soybeans are in R1 with last herbicide applications being made and grasshoppers are being controlled.
Double crops are just in V3-4 stages with first herbicide applications being made.
Sorghum is still in the vegetative growth stages.
Alfalfa is in second cut. Fall alfalfa planting starts in 3 weeks and will go through September.
Jeff Martin – PA, WV, Western MD, Western VA
PA I-83 west to Bedford County is very dry with only 1/2 to 1 inch of rain in the last 5 weeks. I-83 east to Chester County PA has been getting rain and crops look good to excellent for the most part with corn tasseling. They have got 2- 5" over the last 2 weeks depending where you are at.
MD west of the bay is dry and corn is tasseling. Corn is stunted and curled up, and soybeans are short and hurting from no-to-little rain over the last 4 weeks.
VA East of I-95 is dry down to below Richmond, VA. From Richmond west and south of Harrisonburg, VA have had rain up to 2 week ago but are now drying out from the 90+ temperatures. Northern VA is dry from little to no rain for the last 4 weeks. Alfalfa 2nd cutting is complete.
Bill Edmund – Southern VA, NC, SC, GA
The majority of corn is in the R2 to R5 stage. Most of the corn in lower SC and GA seems to be an average to above average crop. Much of upper SC and NC did not fare as well due to excessive rain and was not uniform across the field. Even though it has come out well in places, lower areas received considerable damage. Overall, expect a below-average yield. Many areas received 12 inches of rain the last 2 weeks of May and pockets of heavy precipitation continued through June and July, and fungicide applications have been widely applied in this area.
Harvest will begin within the next few weeks in GA. Central and Eastern NC and SC should start by the first week of August and will ramp up mid to late August. Western and mountain areas of these states should get started by late August and continue through September and October.
Soybeans vary across the board. In areas not hindered by excessive water, planting started in early to mid-May and are in the R2 to R4 stage. Other areas range from early vegetative to R1. There were more soybeans planted late June to early July than ever before for much of southeast NC. Even later than an average second crop. Overall, the soybean crop appears to be below average for this entire area.
Corey Prosser, TTA - Ohio
Not surprisingly, crops across the Buckeye state are at multiple growth stages and conditions. A two-month planting window this year was followed by above average temperatures and below average rainfall for many parts of the state. You can find excellent looking fields of both corn and soybeans and struggling crops all within 5 miles of each other.
When it comes to corn, it doesn't matter if you're in northeast Ohio or Southwest Ohio, corn is all over the board. Almost all of April planted corn is currently shedding pollen or in some cases even brown silk. There are a lot of fields that are also a few weeks away from VT as they weren't planted till after Memorial Day. The biggest concern for many growers revolves around the uneven growth stages within most fields due to early season growing conditions. There were many fields where growers had replant and those areas are in most cases much farther behind. The uneven growth stages are creating issues for VT fungicide and insecticide application windows to help control the growing number of insects we are seeing. With that said, the corn crop in Ohio doesn't look all that bad. There have been a few products that have really stood out to our customers and dealers this year. Those products being LG51C48, new LG57C97, LG59C72, LG5590, LG62C35, LG5643, and LG5650. With above average temperatures the crops are changing by the day, and with rain in the forecast many growers could be looking at good yields this fall.
Soybeans are the crop that is handling the recent conditions best. As a whole, there seems to be more good-looking fields of soybeans than there are of corn. Many growers have started pushing soybean planting dates earlier and earlier each year, and this year looks like another year that will pay. Disease to this point has been very minimal but we will be on the lookout as some small pockets of SDS have started to show up. If conditions continue to stay dry spider mites could become an issue but the upcoming week will hopefully change that. Many growers are at the R3 stage and are applying fungicides to help mitigate stress on a lot of the good quality soybeans. 2888RX have been hard to beat and look to hold up again this year. The new 3202RX has been very impressive in plots against the strong and stable 3550RX. The 3777RX still may be the variety to beat this year as they have been for the past few years across the state.
The next few weeks of weather, like always, will be very important to Ohio's overall crop progress and condition. As there are many areas who have caught those timely rains there are just as many areas where crops are starting to show which variety can handle the stress and which ones cannot. I hope everyone stays healthy and safe and thanks for the support of LG Seeds.
Phil Brunner, TTA - Northern and Central Indiana
The corn crop in Northern Indiana is a mixed basket. We had 3 planting seasons, early (late April/early May) then 2 1/2 weeks of cold and wet with no planting, late (late May/early June) and finally replant season of what was killed in the cold wet spell. Accordingly, we have corn that is done pollinating and ready for fungicides if needed, though most of our corn acres are just starting pollination. The replant is knee high. This should make for a fun harvest! Overall, these widely varying growth stages all look pretty happy and healthy. Some areas in NE Indiana could use a good soaking rain as it's starting to get pretty dry.
Soybeans are basically in the same boat with double crop beans just emerging all the way up to early planted beans around R3. More beans got planted in April than I've ever seen. They look pretty nice, but I think that really cold spell that started May 8th really shortened them up. They basically stopped growing for almost 3 weeks. That doesn't mean there isn't still great yield potential there but just not what we're used to seeing them look like (shorter internodes). A lot of fungicide/insecticide spraying and foliar feeding is underway.
Dan Mitchell, TTA - Mid-South & Southern Indiana
Conditions in the Mid-South have been generally very good once the crop got planted. Several growers did face issues with replanting after heavy rains and river flooding earlier this spring. Most of those acres were replanted in the past 30 days.
Corn harvest could begin in Central Louisiana by Mid-August with those acres that did get planted. Many hundreds of acres did not get planted in the lower Mississippi Delta due to early rains postponing the opportunity to get in the field.
By and large the crop in Central and Northern Mississippi is expected to be good assuming they don't take a hit from disease situations with Southern Rust or Gray Leaf Spot. Across the Mississippi in Eastern Arkansas, the crop was a little more delayed than in Mississippi but has caught up. Several confirmed cases of Southern Rust in this area could impact yields but most of these growers routinely apply fungicides to fight it.
Moving north into West Tennessee and Kentucky, we have excellent crops once again. Early delays have been overcome but they still face issues of corn that is pollinating in some pretty hot conditions. Warm overnight temps are not helping the situation either.
The corn crop in Southwest Indiana is in much better shape than at this time last year. The soybean crop is much further along due to a record setting pace of planting in April. The area with the most challenges has been SE Indiana. Much of their crop got planted later than other parts of the state and then conditions turned dry and stressful. I have seen good improvement in this area however in the past 10 days.
Fungicide applications on both corn and soybeans are taking place right now as a proactive approach but this varies widely by geography. Many growers are using the scout and "apply as needed" program with the depressed commodity prices this year.
Brian Weihmeir, TTA - Southern Illinois and Eastern Missouri
As we begin to close out the month of July, a lot of progress has been made across the region for both the corn and soybean crop. One thing that has been apparent as you drive across Southern Illinois and Eastern Missouri is the variability in rainfall. Some areas have been begging for a rain while others down the road can't miss. Despite the rainfall that we can't control, most growers have been busy finishing out the growing season.
Looking at the corn crop, most growers have finished their last pass of nitrogen for the year. Due to the variability in rainfall, growers who utilized nitrogen stabilizers with their final pass will be rewarded greatly. With most corn in the area are at VT, a lot of growers have been questioning the use of foliar fungicides to finish the corn crop out. While scouting the past few weeks, disease pressure in the area has remained low. When trying to make that decision, growers should be looking at hybrid ratings, disease pressure, and the future forecast. Tools like Advantage Acre can help with this decision. When looking at the corn planted in April, May, or June, the yield potential seems to still be pretty good for most areas so protecting the crop and retaining bushels should be a priority as we finish out.
Soybeans in the area are starting to see some better height. Rains throughout the month of July have helped with this and most of the soybeans planted in 30" rows are starting to canopy. Wheat acres that were double cropped with soybeans are now able to be rowed from the road for the most part. Early to mid-season plantings of soybeans are starting to approach the R3-R4 growth stage so it is also time to be spraying fungicide on the soybean crop. Japanese beetle pressure has been relatively low for most areas, so we are seeing little insect feeding as of right now. Timely rains throughout the month of August will help with pod fill to finish out the crop.
Steve Crafton, TTA – Northern and Western Illinois
It seemed to take forever to finish planting season this year. A lot of fields had to be replanted mainly due cold and wet conditions around Mother's Day.
In general, our corn crop looked pretty good until we experienced 2 storms that produced 80 mph winds within 10 days in western Illinois. Lot of green snapped corn and trees down in the area of the state. The corn crop health has looked good with little signs of GLS or NCLB. We were dry for a while but have received weekly rains to keep the crop moving along. Corn in our region is pollinating, but high temperatures during the day and nighttime lows in the 70's is tough on the corn right now. Those warm nights don't let the plants rest. We are getting ready to set out root worm traps to track beetle population.
Soybeans had a good even emergence in most cases and have received timely rains and look great! Most of our region is entering the "Flowering Stage." I haven't seen too much of diseases. Japanese Beetles are feeding on some of the end rows, and as you walk further into the field, you see very few beetles.
Robby Meeker, TTA - Central Illinois
The central Illinois crop has seen good progression in the last month. We have had a lot of GDU accumulation with good sunshine for crop progress and growth. Much of the Illinois corn crop has gone through pollination already and seems to have had success.
Soybeans in central Illinois are setting pods and beginning to fill those pods. A lot of early planted soybeans (April- May 10) are entering that R3 to R4 growth stage which is optimal for fungicide/insecticide application. The image on the right show's soybeans between the R3 and R4 growth stage and ready for fungicide/insecticide. Soybeans look to be in a good spot with solid yield potential.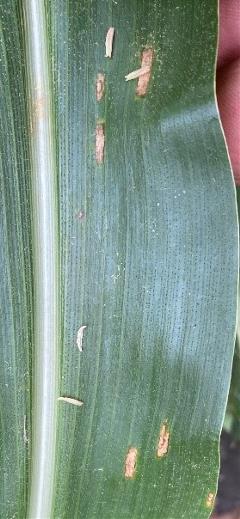 The corn crop has progressed nicely. Scattered rain showers have brought needed rain, but also some damaging winds and hail to some areas of the state. Kernel counts look to be very good in most cases. High humidity/rain and foggy mornings have been ideal conditions for Grey Leaf Spot to show up.
Jim Rowley, CPAg, TTA - East Central Illinois
Heavy rains and heat have been the headlines for East Central Illinois crops. This past week we experienced a 9" downpour at East Peoria on July 15th, 2020 earmarking the beginning of corn pollination. Despite the significant rain fronts passing through, no widespread wind damage was associated with the front.
Key agronomic issues we have been monitoring are corn disease pressure and insects. Grey Leaf Spot is being found in most areas, with the humid and wet conditions being the perfect environment for development, prompting fungicide applications throughout the territory. If temperatures cool down, we will be monitoring for Tar Spot in corn, as well.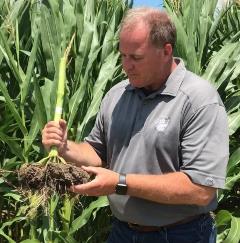 We are currently conducting corn rootworm digs to see how much feeding has impacted our traited products, while at the same time, we are placing sticky traps to capture corn rootworm beetles in order to identify overall CRW presence.