AGRONOMIC
SUPPORT
YOU CAN TAKE
TO THE FIELD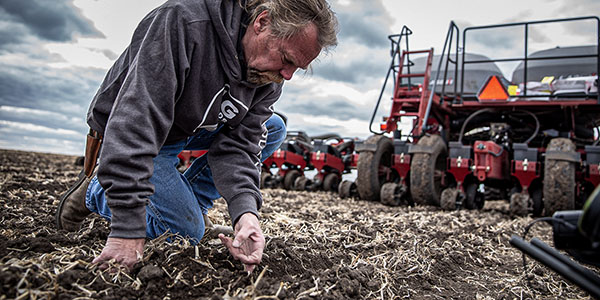 Early Season Pest Issues
The best time to scout for early season insects is during crop emergence, and there are four primary pests to look for: seed corn maggots, wireworms, white grubs and cutworms.
Seed Corn Maggots
Seed Corn Maggots are generally problematic in fields with heavy manure applications and/or high residue. Cool, wet weather also favors seed corn maggot activity. The maggot feeds directly on the seed, destroying its chances at germination and leaving the seed soft and mostly intact for a short time after feeding.
Wireworms
Wireworms are the larval stage of the click beetle, and they're generally found in grassy areas or fields recently taken out of pasture or CRP. They also prefer cooler soil temperatures. The wireworm feeds on the seed, leaving a hole through the seed before moving to an adjacent seed. Wireworms also prefer cooler soil temperatures.
White Grubs
White grubs are the larval stage of May/June beetles and, like wireworms, they're found mainly in or near grassy areas. They are white, 'C' shaped larvae with a brown head and two parallel rows of spines on their raster. The true white grub causes the most damage to corn.
Black Cutworms
Black Cutworms can also cause significant stand reductions in corn. They do not overwinter in Nebraska and moth flights can be greatly influenced by southerly winds. Warm temperatures cause the cutworm to burrow deeper into the soil, reducing their feeding activity. The black cutworm feeds on the corn seedlings, almost always resulting in clipped or cut seedling.
Managing Early Season Pests
Seed applied insecticides like AgriShield ST or AgriShield MAX offer farmers control options for seed corn maggots, wireworms and white grubs. Heavy pressure of wireworms and white grubs may require the use of high-rate seed applied insecticides. Control of black cutworms is recommended when cut plants reach a threshold of 3-5%. Pyrethroids or chlorpyrifos applied as a post emerge are effective, as are Bt corn hybrids.
Contact your local LG Seeds Team Member for issues specific to your operation or geography.