AGRONOMIC
SUPPORT
YOU CAN TAKE
TO THE FIELD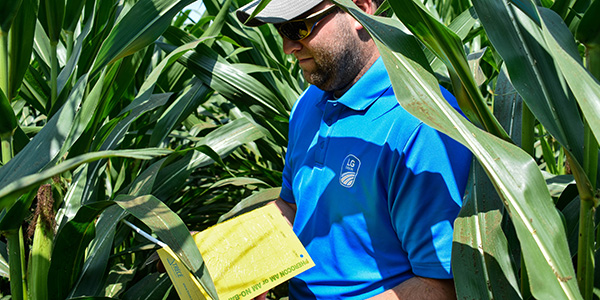 A Complete Guide to Managing Corn Rootworm Pressure
Just six corn rootworm beetles can indicate your corn crop is at risk. Use these tips to measure corn rootworm pressure and make a management plan.
Corn Rootworm Lifecycle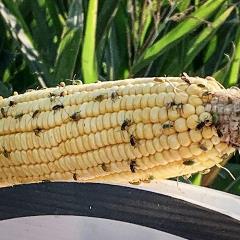 Corn rootworms produce a single generation of larvae each season. Female corn rootworm beetles lay eggs from mid-summer through the fall months. The eggs overwinter in the soil and begin hatching in May, or possibly earlier depending on where you're located in the corn belt. Once the eggs hatch, the larvae feed on corn roots until they develop into corn rootworm beetles – and the cycle repeats. Northern corn rootworm experience extended diapause, meaning that the eggs can overwinter for more than one season, and hatch two or more years later.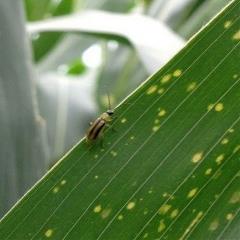 Because corn rootworm eggs overwinter in the soil, winter and spring weather conditions can impact corn rootworm populations the following year. For example, extremely cold weather for extended periods of time can reduce the survival of eggs throughout the winter, and therefore can reduce corn rootworm density the next year. The same way an overly saturated spring can drown out some corn rootworm larvae. However, both instances are difficult to measure and can't be counted on to reduce corn rootworm populations.
Managing Fields with Corn Rootworm Pressure
Measure corn rootworm pressure
Start your management plan by measuring the corn rootworm pressure in your fields using sticky traps, which you can get from your local LG Seeds rep. Set your traps at ear level on 12 corn plants spaced at least 100 feet apart over a field. Change traps every seven to ten days and record the number of corn rootworm beetles on the traps each time you change them. Be sure to keep your traps in the field for at least six weeks. The economic threshold varies depending on the brand of sticky trap you use, but for the most common brands, if you have six beetles per day (or more) on your traps, there is a high potential for problems if corn is planted in the following season. Be sure to check your local state threshold and the threshold for the brand of trap you're using.
Use a crop rotation plan
Switching to a non-host crop, like soybeans, can be an effective way to mitigate corn rootworm pressure. However, keep in mind that northern corn rootworm eggs can overwinter for several seasons, so crop rotation shouldn't be your only method of corn rootworm management.
Apply insecticides
Soil insecticides at planting or as a post-application can be effective to control corn rootworm larvae and give broad spectrum control of other soil borne insects. Most granular soil insecticides labeled for corn are good for controlling corn rootworm, but be sure to read and follow all label instructions to make sure. An added foliar insecticide, often applied with a fungicide, can target adult corn rootworm beetles and cut down populations. Both soil insecticides and foliar insecticides are good control methods but may not be 100% effective.
Use seed treatments
Seed treatments with built-in insect defense can be effective under moderate to low pressure early in the season. LG Seeds offers AgriShield corn seed treatments and Poncho Votivo 1250 to help fight insect pressure. These seed treatments can be effective for low pressure environments early in the season, but if you're in an area with moderate to high corn rootworm pressure, additional control methods should be used.
Plant a hybrid with corn rootworm defense traits
Choosing a hybrid with above and below ground protection against corn rootworm is hands-down the best line of defense when it comes to managing corn rootworm. Traits like AgriSure Duracade®, SmartStax® or SmartStaxPRO® offer multiple modes of below ground protection to defend against corn rootworm larvae.


Build a customized plan
Every field is different, so not every rootworm management plan will look the same. Get in touch with your local LG Seeds rep to build a customized rootworm defense plan backed by solid agronomic support and local expertise.
Sources
Mitchell, S. Ciha, A. Tollefson, J. Corn Rootworm Biology and Management. https://masters.agron.iastate.edu/files/mitchellsteven-cc.pdf
Bayer Crop Science. Recognizing Corn Rootworm Risks. https://www.cropscience.bayer.us/learning-center/articles/recognizing-corn-rootworm-risks
Wright, R. Peterson, J. Hunt, T. Bradshaw, J. McMechan, J. Meinke, L. 2018. Corn Rootworm Management Update. https://cropwatch.unl.edu/2018/corn-rootworm-management-update
Purdue University Field Crops IPM. Corn Rootworms. https://extension.entm.purdue.edu/fieldcropsipm/insects/corn-rootworms.php


AgriShield® is a trademarks of AgReliant Genetics, LLC. SmartStax® and SmartStaxPRO® are trademarks of Bayer Group. Is a trademark of a Syngenta Group Company. All other trademarks are the property of their respective owners.