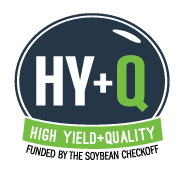 Product Information
LGS2417RX is a key variety for growers and is an excellent option for northern Corn Belt stress acres that provides exceptional top-end yield potential.
LGS2417RX is well proven as a key variety in this maturity with top-end yield potential.
Moderately statured plants have great emergence and very good standability.
Resistance to SCN and BSR along with generally good tolerance to most common leaf diseases and very good IDC tolerance.
Provides strong stress tolerance.
Plant Characteristics
Emergence 9 Standability 8 Shatter Resistance 8 Plant Height M Plant Type MB Pubescence Lt. Tawny Flower Color Purple Hilum Black Pod Color Tan
Management Tips
Excellent adaptability into no-till and minimum tillage and well adapted to all row spacings. Adapted across the upper Midwest. Handles stress and non-stress environments equally well.
Management Practices
Poorly Drained Soils 9 Marginal Soils 9 Productive Soils 9 Adapt to No-Till 9 Early Vigor 9