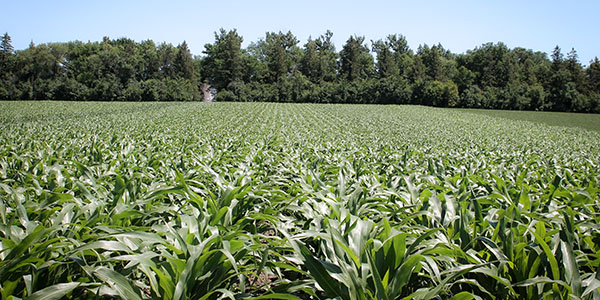 New Experiences as an LG Seeds Intern
This week was full of adventure and learning as I traveled to North Dakota and Minnesota. I made plans to meet up with Logan, a Sales and Agronomy Intern, to learn all about what it takes to be a farmer up north. I quickly realized that I had a lot of learning to do. Being in Fargo, North Dakota, Logan gets the honors of covering both North Dakota and Minnesota. The first day I was with him, Logan and I headed to Ayr, North Dakota, to look at one of his plots. This area in North Dakota is in what they call Red River Valley. The Red River Valley used to be an enormous glacial lake, which eventually drained completely out, leaving behind ideal soil for farming.
I wasn't sure what to expect since I had never been that far north, but the corn and soybeans looked pretty similar to what I'm familiar with in Iowa. Logan's plot was at V7 stage. We also looked at another plot in Fergus Falls, Minnesota. While we were at the plots, we compared the different varieties to see how they were holding up stress. North Dakota and Minnesota are going through a severe drought, just like Iowa. Logan told me they will know if they will have a crop to harvest in about two weeks. If they don't get any rain soon, they crops will most likely die. While we were at this plot, I met Technical Team Agronomist Tim Beninga. Tim was also worried about the dryness, but mentioned the corn and soybeans are holding up well.
As we drove through North Dakota, I realized there were more crops than just corn and soybeans. It took a lot of courage to ask Logan what certain fields were, but I was too curious to not ask. Logan told me all about the production of sugar beets, potatoes, wheat and some other small grains – I was amazed. Being from Iowa, the only fields I see are corn, soybeans and periodically some alfalfa. The rest of my time spent with Logan I played the game "guess what crop this is."
The next day, Logan and I drove up to Northern Minnesota to do some STAR Partner dealer interviews. When I was planning to come up, I asked Logan if he could find me some STAR Partner dealers to interview. I really wanted the practice of interviewing people within the farming community. On our way to one of the dealers, we saw a bear cub running and playing in a field. I had never seen a bear before, so I was ecstatic.

Once we made it to Fosston, Minnesota, I was greeted by STAR Partner dealer Rick Roed and Sales Account Manager Mark Benson. As I interviewed Rick, I quickly learned he is a very passionate seed dealer. Rick has a very successful dealership – it was easy to see why. Throughout the interview, I asked Rick, "What does it mean to be a successful dealer?" Rick answered, "If my customers are successful and make money, then I am successful and make money." As the interview continued, I could tell Rick truly cared about his customers and the relationships he has with them.
Thursday, I packed up my bags and headed south back to Iowa. Along the way, I decided to get off the interstate and go through the beautiful Loess Hills. Even though they are in Iowa, I had never taken the time to go through them before. This is one of my favorite parts of traveling as the Marketing Intern for LG Seeds. I get to see so many amazing things that I probably would have never had the chance to.
Next week I'm planning to get my Ford Explorer back on the road and head east to Kentucky to visit Accelerated Sales Intern, Owen.