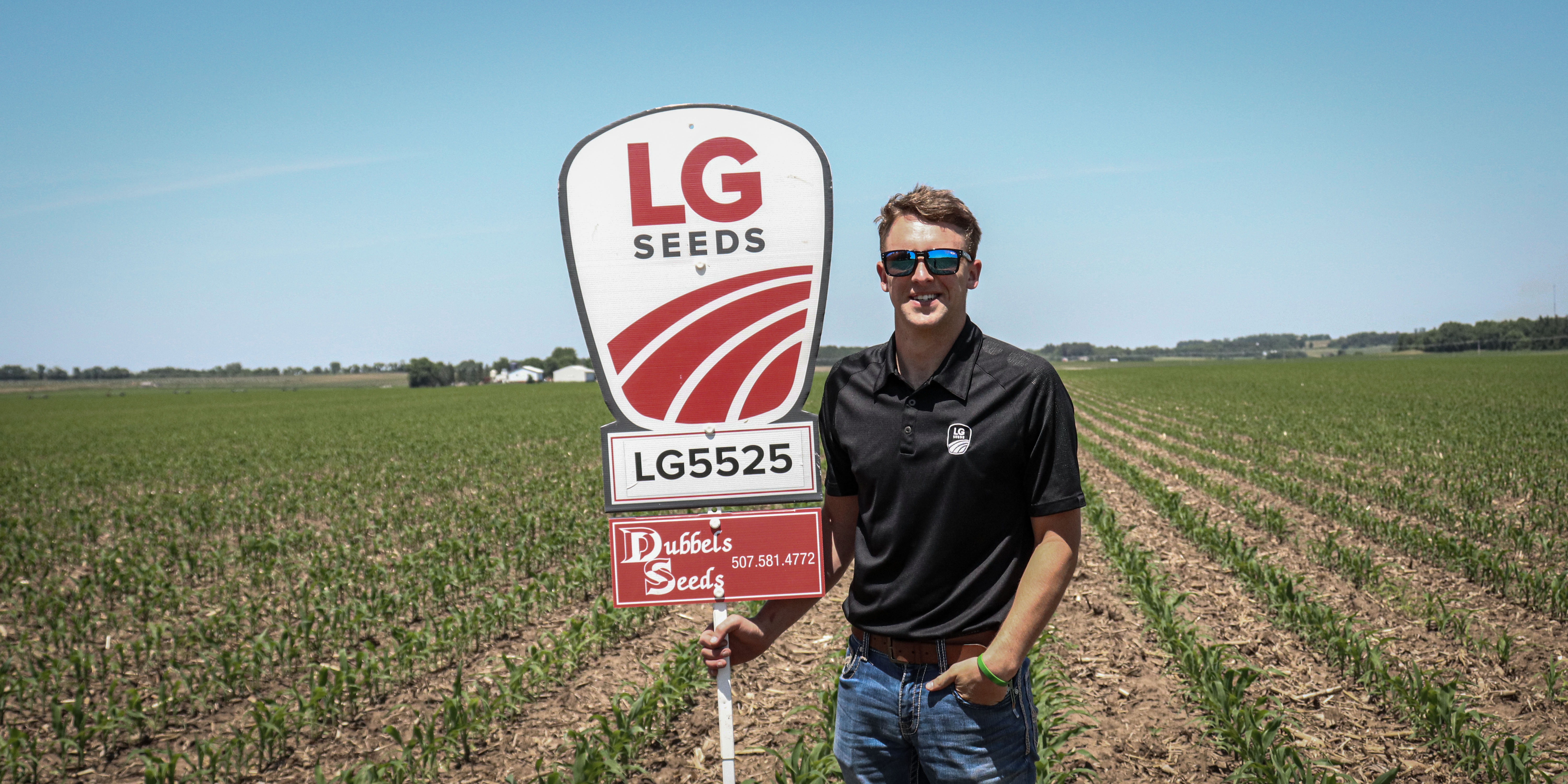 LG Seeds Intern Report - Always Be Prepared
The miles are racking up on the Chevy Traverse (the vehicle I'm driving) and I saw some interesting country this past week. southeast Iowa and southeast Minnesota called my name on Tuesday and Wednesday, so I hopped in the car and took off driving. Although they're neighboring states, these places were polar opposites – in a great way.
Southeast Iowa has a friendly feel. If you stop anywhere, you will always be greeted with a smile and a handshake. If you get deep (and I mean almost-Missouri deep) into southeast Iowa, you will travel on some winding backroads to get where you want to be, especially when scouting corn. I traveled with Bryant Luers, LG Seeds Technical Team Agronomist, Jake Ekstrand, Sales Account Manager for LG Seeds and Clayton Esch, Sales & Agronomy Intern. When we took off for the day, I didn't know where we were going. But, before I knew it, we were pulling into a little town called Donnellson. From there, we meandered through the countryside and visited some farmers, who were quite the characters. One gentleman was over 80 years old and planting his corn with an eight row planter. If that doesn't show you how the love for agriculture lasts forever, I don't know what does.
After eating my first Horseshoe (a piece of Texas toast, a thick hamburger, french fries and the whole thing smothered in cheese – a heart attack waiting to happen as some might say) in Wayland, Missouri, we wound our way back up to southeast Iowa where we started the day. There was a stark difference between where I was a week ago in northeast Iowa to southeast Iowa – especially in soil types. We watched for different types of bugs (cutworms, mainly) and diagnosed what issues may be causing differentiation in color of the corn. It was a great learning experience, and as always, it was awesome to meet new growers and members of the LG Seeds team.
On Wednesday, I turned and traveled north to a little town in southeast Minnesota called Randolph. In Randolph, the country is almost like Iowa, except there is irrigation everywhere – something that kept my eyes wandering as I was driving down the road. When I reached Dubbels Seed, I was greeted by a fresh college graduate who is passionate about the seed industry and is looking to grow his family's business. Luke started as a Rising STAR Partner and went on to start his seed business as a STAR Partner. Luke Dubbels took me on a tour of their operation, and I learned about what irrigation has to offer for corn and soybean growers in the area.
Charge your camera and fill your gas tank because as we approach this next week, there will certainly be more travel and more stories to be told. Stay tuned to hear more adventures from the Corn Belt!