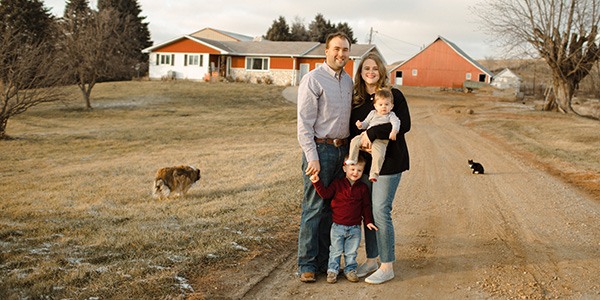 LG Seeds Awards Hungry Canyon Design with $1,000 Small Business Saturday Prize
What started as a creative outlet has turned into much more for Melissa Nelson, owner of Hungry Canyon Design.
"In college when my husband and I were dating I would look for cards for him, but it was hard to find a card related to agriculture. Sometimes I'd find a card with a green tractor on it, but I can't give that to him. His family bleeds red." Melissa said with a laugh. So, she started making her own cards for events and holidays.
It wasn't long before her friends and family took interest in the cards she was creating, and Melissa, being a self-described "serial entrepreneur", saw an opportunity. She put her Ag Communications degree to work building a website and designing products. Before she knew it, Melissa was running a full-fledged business out of her Moville, Iowa home.
Hungry Canyon Design makes farm and ranch related greeting cards and gifts such as keychains, prints, stickers and clothing. Melissa says she's always loved marketing and communications, and running the farm with her husband, Mark, keeps her constantly inspired.
"We have cards that you just won't find outside the agriculture industry. For example, we have a Valentine's Day card that says 'Love Is… Signing the Operating Note'. If you're not involved in agriculture, you don't understand the significance of something like that."
As one of the winning businesses in the LG Seeds Small Business Saturday $1,000 giveaway, Melissa says she plans to use the prize to set up a home office in their new farmhouse.
"At our old house, Hungry Canyon was run out of a closet because that's all the space we had. Now, I'm excited to get an office set up so I can be more organized and more efficient with my time and energy."
If you're interested in supporting Melissa and Hungry Canyon Design, visit HungryCanyonDesign.com or follow them on Instagram and Facebook at @hungrycanyon.
LG Seeds, based in Westfield, Indiana, produces and sells leading corn, soybean, sorghum and alfalfa products through a network of professional STAR Partner dealers. The company started the Small Business Saturday $1,000 giveaway in an effort to support the rural communities their STAR Partner dealers do business in. To learn more, visit lgseeds.com or facebook.com/lgseeds.