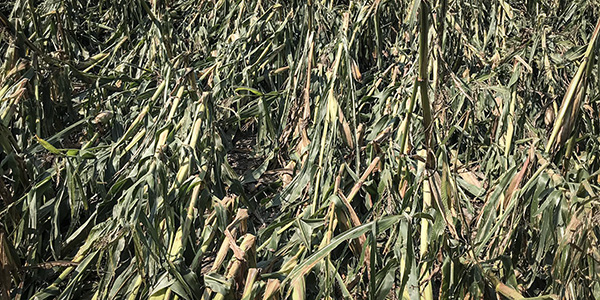 Grain Quality Issues in Wind Damaged Corn
The spring started off extremely suitable for getting crops planted in eastern Iowa. Then, early summer provided excellent growing conditions and as we rolled into mid-July, I thought to myself "We are set up for one of the best crops we've ever raised in this area!" Fast forward to August 10, and the Derecho rolled through Iowa – destroying thousands of acres of crops and damaging thousands more. Combine that with a lack of rainfall in the month of August, and now I'm thinking to myself "We are set up for some highly variable crops this fall."
Dry weather during grain fill always present problems with corn, but this year we had a massive windstorm on top of that. Farmers in eastern Iowa have plants that are dead and the grain is dried down to 15%, as well as plants that are still alive and haven't hit black layer, all in the same combine pass through the field. Some of the variability is from dry weather, and a large portion of it is from plants getting bent when the wind came through. Aside from the huge yield swing we are seeing in these situations, we are also seeing very shallow and small kernels in the areas that died early. In the cases where whole fields are twisted by the wind, test weight has been reported to fall below 50lbs.
However, yield and test weight aren't the only side effects of a dry summer and windstorm. A more concerning problem, in my opinion, is ear molds. Some areas of southeast Iowa received over six inches of rain in the past two weeks. With lots of corn twisted up, laying close to the ground and not letting any airflow through, this is causing a wide array of ear molds in the corn and kernels sprouting in the husk.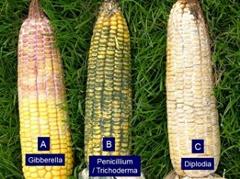 This season I've found diplodia, gibberella, penicillium, and aspergillus. These molds can cause damage if given the right conditions, and we're predicted to have those conditions moving forward this fall. Grain damage will occur with all these ear molds, but the most concerning part of these is the toxins they produce, especially gibberella and aspergillus. Gibberella can cause mycotoxins, which will get loads rejected if it is being sold for livestock feed. Aspergillus can cause aflatoxin, which is harmful to both humans and livestock, so it is very closely regulated.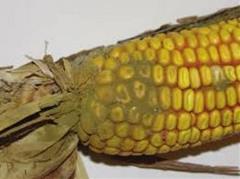 If you suspect you have any of these molds in your fields, contact your LG Seeds STAR Partner or Technical Team Agronomist to identify the mold and determine if there is a potential problem or not. Even if there are no toxins, you must manage the grain to keep the mold from spreading and becoming worse.
If you are storing the grain, dry it down to below 15% as quickly as possible to prevent the spread of the fungus inside the grain bin. Try to store all the damaged grain together and do not mix it with uncontaminated grain. Also, try to store the grain for as short of period as possible.
Thank you for choosing LG Seeds and have a great harvest!
Sources and Additional Information: