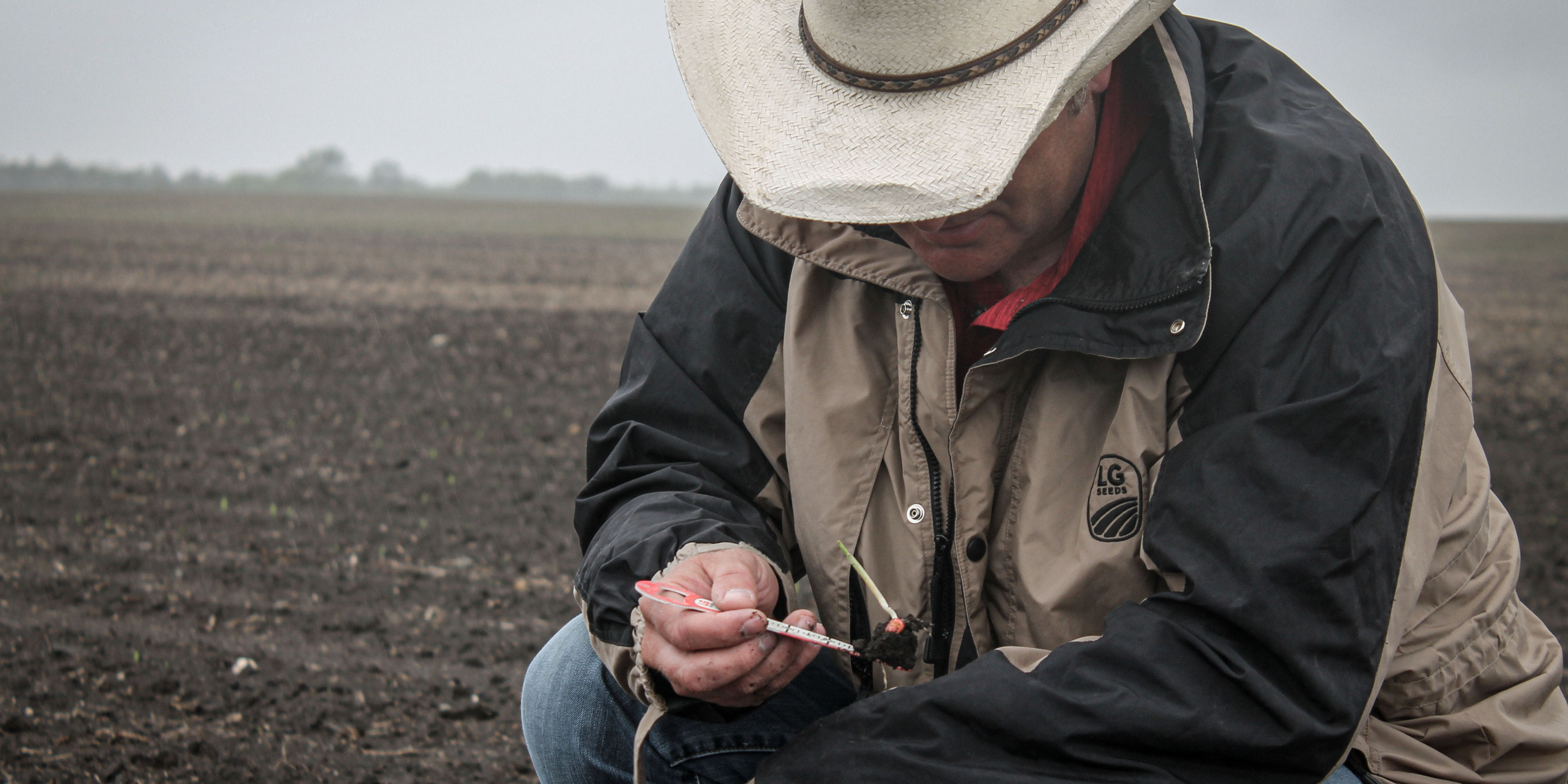 Emerging and Learning with an LG Seeds Internship
My second week as the Marketing Intern has ended, and I can't help but look back and see how much I have grown. Being raised on a farm, I was taught to always check the weather for the week to plan what is going on. Since there was rain in the forecast almost every day, I wasn't sure what my week was going to bring. However, I found with LG Seeds there is always something to be doing – rain or shine.
I knew at the beginning of the week that I was ready to get my wheels on the pavement and see the LG Seeds Team in action. Dave Hoy, a Technical Team Agronomist, was kind enough to let me ride along with him, and I quickly learned how weather-dependent an agronomist's job is. The plans we made the night before changed the morning of and, even though plans were changing quickly on that rainy day, I knew it would be a valuable day.
This was my first time meeting Dave, but as soon as I hopped in his truck I knew we would get along just fine. He greeted me with a handshake and a smile, and we made some instant connections when he told me he has a son who also attends Iowa State University and lived in the next dorm over from mine. Things like this remind me of what my my mentor, Laura Vsetecka, told me at the beginning of my internship "the world only gets smaller and smaller when you work in agriculture".
Dave decided we would be going on a scavenger hunt and told me, "We will be doing more driving than being in fields. Welcome to the life of a Technical Team Agronomist." As we got on the road, I learned that our scavenger hunt was us looking for test plots and Pre-Commercial Research (PCR) plots, and scouting them to evaluate emergence. This was a good task for us to do on a rainy day because it had to be done before the corn grew much taller. If Dave would have waited any longer, the corn would be too tall, and he wouldn't be able to find the plot location indicators.
This was my first time evaluating corn emergence, so Dave talked me through the entire process. First, we looked at the overall area to see how even emergence was. Then, we carefully dug up a seedling to get an idea of what was going on underneath the soil surface. He showed me all the parts of the seedling and how to tell what the planting depth was. When we were done looking at the seed, we carefully replanted it. It was intriguing to learn about this process and be able to see it up close.
As we drove back, I learned a fun fact about Grundy county, Iowa, where Dave is from. He told me that lots of seed companies have test plots in Grundy county because there has never been a recorded drought in the county. For those of you who are not from Iowa, this is certainly an outlier in the weather patterns. Dave said it rains the perfect amount almost every year, which allows the corn to thrive in the area. Most people believe the optimum rainfall levels are related to the Iowa river that runs through Grundy county.
For the rest of the week, I worked from home and watched the dry soil soak up the much-needed rain. Even though I wasn't in the fields the rest of the week, I sure learned a lot as I worked with photoshop to edit pictures, wrote my first newsletter on my own and got some social media captions and pictures ready to be posted. Just as Dave and I saw good emergence with the seeds in the test plots, I am emerging well with my internship and pushing myself every day to learn more and more. Make sure to catch up with me again next week as I travel out of Iowa to visit my first STAR Partner dealer and see what some of my fellow interns are up to in Ohio and Illinois.