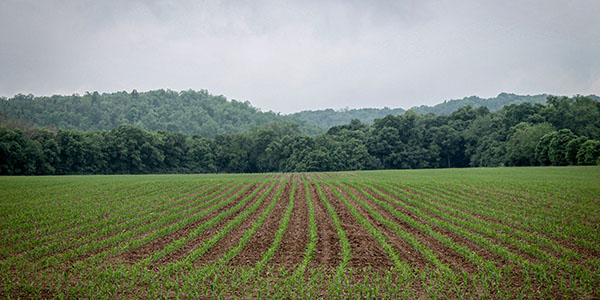 Taking My Internship to the Eastern Corn Belt
Last week was a busy one – I spent more time in other states than my own. On Tuesday, I packed up my bags, got on I-80 and traveled east towards Ohio. This eight-hour drive took most of the day, but I enjoyed my time in the car listening to classic country music. As I was driving, I made sure to take in all the scenes of agriculture around me. I realized: the further east I drove, the more diverse the soil and crops looked compared to what I was used to in Iowa. I've never been to Ohio, so this diversity made me excited for the trip ahead. 533 miles and 150 songs later, I finally made it to Wapakoneta, Ohio, where I met up with Madeline, a Sales and Agronomy Intern. We made plans with Kenny Lucas, an LG Seeds Sales Account Manager, to put in a plot the next day. Once plans were made, I started prepping for a day in the field.
In the morning, Madeline and I made a few seed deliveries before heading to plant the plot. I met a few STAR Partner dealers and famers, as well. When I introduced myself as being from Iowa, it seemed as if everyone was envious. Apparently, my whole life I have taken for granted how amazing the Iowa soil is. I think every person I met told me how lucky I was to be able to farm in Iowa. Just like every farmer wants to compare crops, they all also asked me how the crops looked in Ohio compared to Iowa. Most of the farmers in Ohio were in the middle of planting or close to being done, so there weren't lots of crops to look at. I told them most of the farmers in Iowa are done planting and the crops are looking pretty good. When I told them this, I learned that when most Iowa farmers were planting in mid-April, there was a big snowstorm that came through in Ohio and covered the soil with five inches of snow. They had to wait a few weeks for the ground to warm up enough for planting.
While we were on our way to plant the test plot, it started pouring rain. This just proved to me, again, how quickly weather can change someone's plans in the agronomy field. Instead of planting the plot, we were sent on a mission to deliver more seed to farmers, most of which was to be used for replant. To give you an idea of how much of Ohio we traveled that day, we started in northern Ohio and by the end of the day we were only 10 miles from the Kentucky border. It was interesting to see how many different soil types there are in Ohio as we traveled across the state. One of the farmers told me parts of Ohio had the Wisconsinan Glacier move through the area, so their soil is newer and higher quality compared to the soil in other parts of Ohio that the glacier didn't travel through. Even though much of our day was spent traveling, I learned a lot from talking to the farmers, and made some new connections as well.
As my time in Ohio came to an end, I packed up my bags and headed west to Peoria, Illinois, which was the next stop on my trip. I spent a day in Elmwood, Illinois with Savannah Brodner, a Sales and Agronomy Intern, and Jared Ekstrand, a Sales Account Manager. I am starting to think the rain follows me everywhere I go, because it rained all day while I was in Illinois (maybe my next trip should be to South Dakota, because the farmers up there could sure use the rain). Even though it rained, we made good use of our time with seed deliveries. A unique part of Elmwood is that there is an AgReliant production facility in town. It was neat to see the big warehouse where lots of the seed corn is packaged, labeled and shipped off. While in Illinois, I noticed that it was very similar to where I live in central Iowa. The crops were about at the same stages and the soil looked identical.
I started my way back home to Iowa on Friday afternoon, and I was excited to tell my family all about what I learned and who I met while traveling east of the Mississippi River. Be sure to catch my blog next week – I'll be putting together an assessment of potentially damaged crops after a heavy frost on Memorial Day weekend.