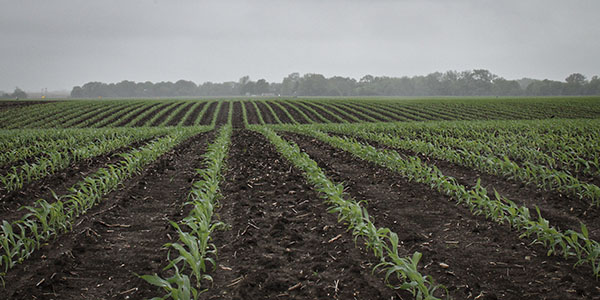 Crop Progress - Northern Corn Belt
As of the last week of May, most of the planting is complete in the northern Corn Belt, with only a few soybeans left to go in the ground in far northern Minnesota and North Dakota. Planting this spring moved faster than any recent spring. The area had limited rain and once planters started moving, they didn't stop until everything was planted. Most farmers saw very good planting conditions and the soil worked up nicely to make a high quality seedbed.
Now that the corn crop is emerging, the LG Seeds agronomy teams have been looking at fields and plots to evaluate emergence scores on this corn crop. This particular segment of the LG Seeds agronomy team covers Michigan, Wisconsin, Minnesota, North Dakota, South Dakota and Iowa. Across this entire geography, the most common word used to describe emergence was "variable". Even though seedbed conditions were very good, they didn't necessarily translate to very good emergence. The two main reasons we've found for this are very cold temperatures at, or shortly after, planting, and a lack of moisture at seeding depth.
They say hindsight is 20/20, and once emergence has started and the corn crop can really be evaluated, we almost always find a two to three day window that wasn't ideal for corn planting. Most often, conditions during these days were good, but the weather following these days was not, which causes issues when it comes to emergence. This year, the three-day planting window that we later learned was not ideal for corn planting appears to be April 21 to 24. Looking at the weather timeline in Advantage Acre, these days were followed by some very cool nights. In west central Minnesota, nighttime temps dropped into the lower 20s, and two inch soil temps dropped to between 26 to 28 degrees. We often talk about not planting ahead of a cold rain, as imbibitional chilling is a concern when a corn seed uptakes cold rain water 24 to 48 hours after planting. Even though we did not see precipitation during this timeframe, soil temps were so cold that the moisture taken up from the soil was cold enough to do damage and cause either a reduced stand, or uneven emergence in these fields.
The other reason emergence variability is appearing is due to a lack of moisture in some areas. In general, temperatures were relatively cool throughout the spring, so even though there wasn't high levels of precipitation in the area, moisture levels stayed relatively constant in the soil profile. However, there was a few two day windows where temperatures shot up and the wind blew – drying out the soil. Depending on the tillage used last fall, this created some dry pockets in a lot of fields when the field cultivator ran across the field. It was not uncommon to see five to six plants with good emergence, followed by two to three that were laying in dry dirt, and then another five to six good plants again. In areas that did receive rain after planting, most of these plants did emerge a little behind the others. In some areas, these plants never did emerge.
Although there was variability in the northern Corn Belt, replants have been pretty minimal as stand counts were high enough to not warrant replanting. In the years ahead, the northern LG Seeds agronomy team hopes that farmers look at the weather forecast more than the calendar when it comes to making planting decisions. As a seed company bringing leading genetics to the marketplace, our mission is to ensure you get the highest quality, most cutting-edge seed possible. As a farmer, you can do the best job possible to have a plan for that cutting-edge seed and maintain soil fertility and create a great seedbed. Let's work together for a successful growing season ahead.
Download a copy of this technical bulletin here:
Crop Progress - Northern Corn Belt