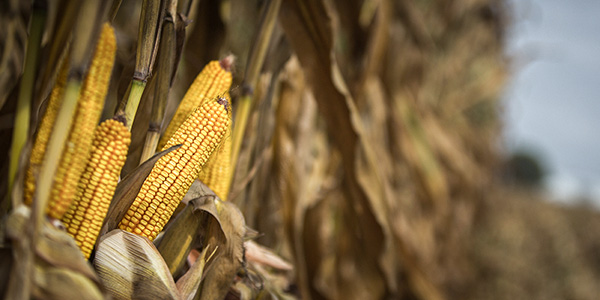 Crop Progress: Central and West Corn Belt
Overview
The 2020 corn and soybean growing season is nearing the end and we've had a good stretch of dry weather to allow almost all the soybeans and most of the corn to be harvested without any weather delays. Recent weather has turned cool, wet and overcast though, with some parts of the territory seeing their first snows.
The hot and dry weather through late summer and early fall led both corn and soybeans to dry to excessively low levels before many growers were able to get them harvested. Grain quality coming out of the fields has been good from what I've seen. Standability has been good in those areas that weren't overly stressed or hit by extreme wind events during the growing season. Below are updates from each Technical Team Agronomist's local area.
Central Nebraska
Central Nebraska corn harvest is quickly coming to an end. Most growers should finish in the last week of October. Yields have been variable and water seems to the main reason. Lack of moisture in general, combined with soil permeability, resulted in big swings in yields even within a single combine pass. High average temps in the month of August really pushed the crops through the grain fill stages quickly, which resulted in shallower kernel depth and less test weight in general. High winds causing crop damage across the region was another reason for variability. Reports of greensnap and root lodging in a lot of fields from the July 8-10 storms have taken a toll on field averages. All things considered, farmers are still reporting a good crop, but down from last year. LG5700 is still a top performing product in the area. LG62C35 responded very well with the hotter and drier conditions this year and handled the wind events very well.
When it comes to soybean harvest, yields seemed to be above average. Water was still a variable though, with an advantage to pivot irrigation over flood, estimating 10-15 bushels better under a pivot. LGS2417RX is still a top performer this year along with the new LGS3060RX. Both products frequently exchanging first place positions in a lot of plots this year.
I hope every farmer finishes the harvest season safely and we are looking forward to turning the calendar into 2021!
Northeast Nebraska
The corn drought map has continued to expand across the Midwest with little to no precipitation this fall. This has led to basically no harvest delays and harvest progress being much ahead of normal for our area. Soybean yields on dryland have been lower than our area has seen in years but better than could've been anticipated after the hot, dry conditions we had in August. Ample sunlight and high temps during the summer led to some impressive yields under irrigation.
Moisture holding capacity of soil has been very evident in corn yields this year. Yields have suffered in poorer soils. As with soybeans, there are some very impressive yields coming out under irrigation in areas that didn't suffer wind damage during the summer months. Standability hasn't been much of an issue and has allowed farmers to get the crop out very quickly. Standout products in our area have been LG5643VT2RIB, LG5700VT2RIB, LG62C35VT2RIB and LG59C66VT2RIB.
East Central and Southeast Nebraska
Soybean harvest in east central and southeast Nebraska got off to an early start thanks to a very warm September. Soybean harvest is nearly complete, and yields were all over the board. Dryland yields ranged from 30-60 bpa, with irrigated yields topping out near 90 bpa. LGS2417RX, C2888RX and LGS3060RX had very good performance across the region.
Corn harvest was progressing rapidly as well with grain moisture contents unbelievably low for the month of October. Moistures were as low as 11% in a few cases. Dryland yields have ranged from 150-180 bpa and irrigated yields are as high as 280 bpa. 59C72VT2RIB, 62C35VT2RIB and 5643VT2RIB have performed very well in dryland environments. 59C66VT2RIB, 5643VT2RIB and 5700VT2RIB are performing well under irrigation.
Overall, yields are meeting or exceeding expectations. We always learn a lot in a dry year, sometimes it's not always good. As harvest gets closer to finishing, and farmers evaluate performance, they need to review the entire growing season for any issues that may need to be addressed this fall and next spring. Have a safe finish to harvest!
Northwest Iowa
Soybean harvest was mostly completed by October 10 across the area. Yields had quite a range this year and the few areas that caught a July and August rain shower had some very good yields. Those that caught at least one of the rain events had yields in the 50-70 bu/ac range. While the fields that missed the rains were in the 30-40 bu/ac range.
Corn harvest should be wrapped up before the end of the month in northwest Iowa. Most growers that chopped silage or made earlage this year had trouble getting things in at the moisture they would normally like to see. Grain harvest almost couldn't happen fast enough with the dry weather. There was corn coming out of the field below 13% moisture near the end of many grower's harvest season. Yields were much better and near average in the far northern and eastern counties of northwest Iowa as they received more timely and regular rainfall events. The drier areas in the western and southern portions of northwest Iowa saw yields that were 20-50 bu/ac less than average. The worst hit areas had portions of fields that were less than half the average yield.
West Central and Southwest Iowa
Harvest was progressing along rapidly until this past weekend when rain and snow fell across the area. We had some locations that had up to nine inches of snow on Monday, but it disappeared almost as rapidly as it fell. We have had wet dreary days after the snow fell and farmers are waiting for it to dry. There is talk of heavy rain across west central Iowa later this week. Harvest in this area needs to happy dry, because a large portion of the territory was hit by the derecho and wet down corn wont flow into the corn head.
Yields have varied across the area with yield reports coming in as low as 20 bushels per acre to over 300. Most of the area was classified as being in a moderate to severe drought and the higher yields were dependent on timely rains.
We are seeing a switch in the hybrids that are responding to 2020. Late hybrids that have a high heat tolerance and girth, or those that produce deep kernels, are sorting to the top of plots that have come out to date. LG66C44VT2RIB, LG64C30TRCRIB, LG5650VT2RIB, LG60C33VT2RIB, LG62C35VT2RIB in the southern portion of the area, and LG5525VT2RIB are having very good year despite the challenges of 2020.
North Central Iowa
This week we experienced our first snow flurries in north-central Iowa. We have been fortunate that mother nature has cooperated in the past weeks and most of the corn in my area will be harvested by the end of next week. It has been fast and furious with above-normal temps and steady wind over the past three weeks. This has allowed corn to dry down, leaving little need to use LP gas. Yields have been all over the board. I've spoken with some growers that have made personal records this year, and some growers that cannot wait for the year 2020 to be done. A few hybrids that continue to impress me are 5470, 5525, 57C33, 59C66, and 62C02. There are a couple of brand-new LG Seeds Hybrids I will be excited to add to this list for next year! Stay tuned.
Soybean harvest is pretty well wrapped up. The snow that was in the forecast for this week really lit a fire for farmers to get things done this past weekend. Soybeans have surprised me this year. With not knowing what the heat stress and drought did to this crop, we could not peg what it was going to do. As you would expect, the lighter ground dried up early and didn't amount to much, but where we were able to hold some water the bean yields did quite well. Many yields were even close to last year's, which were some of the best bean yields we've had. Our Xtend line up really was bulletproof with having a 1.8, 2.1, a couple of 2.4s, and a 2.8. These numbers showed a real dominance across the geography.
Northeast and East Central Iowa
Corn harvest has been slower than normal in NE Iowa. Mainly due to three different wind events that have affected the standability of the corn. Two hybrids that seem to be taking the wind better than most are LG57C33STXRIB and LG60C33VT2RIB. Both are yielding quite nicely in fields. Another high yielder is LG59C66VT2RIB. This one is really banging out the corn along with high test weight!
As far as soybeans go, LGS2444RX is still the steady top performing soybean from plot to plot, and field to field. It is consistent and high yielding across the region, even hitting 98 bu per acre in one high yielding plot! C2888RX is the big dog to beat in the southern part of Iowa. Tremendous yields and nice standability. Sales orders are strong, and many dealers are using the Mix Matters tool to help decide which hybrid fits a customer's field. No surprise this technology has taken off right away in NE Iowa!
Southeast Iowa
It has been a tough fall overall in SE Iowa. The weather has mostly cooperated giving us an extended period of harvest time, but the yields across most of SE Iowa have been a little disappointing compared to what we were hoping for. I would say corn harvest is about 65-70% complete at this point. Having said that, we are seeing a few products really shine with some dry and windblown conditions that we had this growing season. The first is LG66C44. A brand-new product that I had tons of comments on throughout the growing season from whoever had this in their plots. It is a very nice-looking product and has yielded in the top of all plots it has been in. The second product is LG60C33. A good, reliable product that handled the wind exceptionally well and is yielding very well!
Same story on soybeans in SE Iowa. Except for a few pockets that caught some timely rain, soybeans have been a little lower than we wanted this fall. The pod counts are very high with lots of soybeans, but the beans are tiny this year. I have had a few products stand out in certain areas this year, but the one that has consistently done it has been LGS3060RX. This soybean has shown very high yields even in some more stressed areas. I would say soybean harvest is about 85-90% complete at this point in SE Iowa.