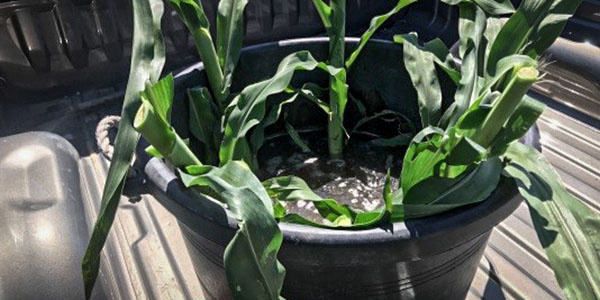 Scouting for Rootworm Feeding
Rootworm larvae hatch in late May and June, so the best time to evaluate damage from rootworms is two weeks after pollination.
How To Complete a Successful Root Dig:
Prepare your supplies:

A few five gallon buckets
Tile spade
Hose with attachment or pressure washer.

Walk 100 feet into the field you're evaluating and select three uniform, evenly spaced plants.
Dig six to eight inches around the circumference of the plant, and as deep as you can. Try to keep the root mass intact. If you're evaluating more than one hybrid or trait, make sure you label each plant with a water resistant marker.
Soak your roots in your five gallon pail for 15 minutes. If rootworm pressure is sever, you will see them floating in the bucket after 15 minutes.
Next, remove the soil to evalate root damage from rootworms. Using a low pressure hose attachment is best, but if you're using a pressure washer, make sure to stand back three feet. The goal is to evaluate feeding and scarring from rootworms, not the pressure washer.
Inspect each node of the roots, accessing damage caused by rootworms.
Use the Root Rating Scale from Iowa State University to rate root damage.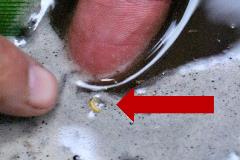 Description

0.00

No feeding damage (lowest rating that can be given)

1.00

One node (circle of roots), or the equivalent of an entire node, eaten back to within approximately 1½ inches of the stalk (soil line on the 7th node)

2.00

Two complete nodes eaten

3.00

Three or more nodes eaten (highest rating that can be given)

Damage in between complete nodes eaten is noted as the percentage of the node missing, i.e. 1.50 = 1 1/2 nodes eaten, 0.25 = 1/4 of one node eaten, etc.
Rootworm feeding can cause yield loss, increased lodging, inhibit water and nutrient uptake and provides an entry point for secondary pathogen's into the plant. If more than one node is eaten off with each root on the node 1.5 inches or less, preventative management practices should be implemented in the following year.
Options for preventative management:
Crop Rotation
Selecting a hybrid with a dual mode of action below ground
Using an insecticide
We've been lucky the past few years with frequent and timely rains to help roots regenerate if they've been fed on by root worm larvae. If we experience a dry year, these roots will not have the moisture to regenerate and we could experience high yield losses and standability issues. If you have a field that have experienced issues in the past, planting a Smart Stax hybrid with two modes of action against rootworm, in combination with LG Seeds high-yielding, unique genetics, will provide optimum protection and yield potential!
(Oleson, J.D., Y. Park, T.M. Nowatzki, and J.J. Tollefson. 2005. J. Econ Entomol. 98(1): 1-8)