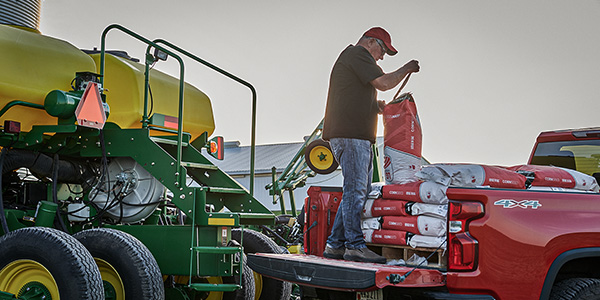 Changes to Consider for 2021 Planting
According to the USDA, yields are increasing at about 2 bushels per acre per year. Various inputs contribute to the increasing yields, but the weather tends to be the biggest impact every year. One of the biggest trends in the weather is warmer springs.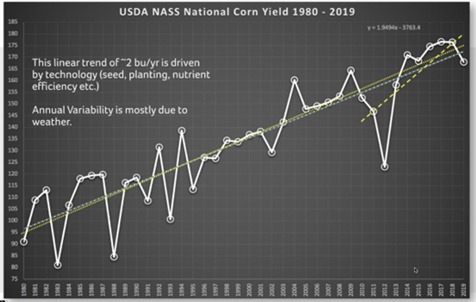 Yields and Weather Continue to Change
The graph above shows the average corn yield increase over time. Both 2019 and 2020 will likely be below trendline. The "I States" have experienced delayed plantings, particularly in 2020, which may have contributed to recent lower yields.
Planning for 2021 Planting
As you plan for Spring 2021 planting, consider planting earlier than usual to take advantage of the shift in heat units. The earlier planting may provide a quick start, but it may not give you any extra time. In other words, you could be losing good planting opportunities due to weather changes, despite planting early. Atmospheric Scientist Eric Snodgrass explains, "In general, temperatures are increasing, but not during the month of October. April is acquiring the additional heat units which may translate to earlier planting. Timing will be critical for fieldwork since average rain during the growing season is nearly 5-1/2" more than several years prior."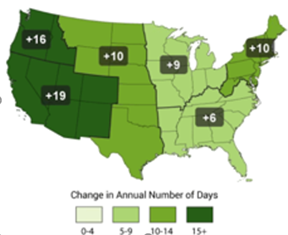 Observed Increase in Frost-Free Season Length
This map of the United States shows how the frost-free days are increasing across the continental U.S. Noteworthy is the fact that these warmer temperatures are occurring earlier in the spring, not fall.


Seasonal Changes Impacting Agriculture
Illinois is at the center of the Corn Belt and specific data below can provide insights into developing trends for neighboring states. Consider the graphics below: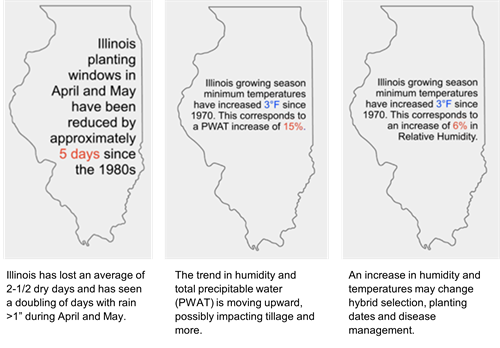 Selecting the best hybrid each season to fit changing weather conditions can be difficult. When growers also consider planting dates, emergence, soil types, drainage concerns, disease tolerance and relative maturities, the task of selecting hybrids becomes more complex.
To simplify your decision-making, consider the Mix Matters Tool as a tool to help in hybrid selection and placement. Easily import those hybrid selections into Advantage Acre where you can take advantage of soil placement along with unique and proven weather outlooks from WeatherTrends 360.

Source of data and graphics:
High Impact Meteorology in Production Agriculture, Eric Snodgrass, Principal Atmospheric Scientist, Nutrien Ag Solutions presented during Illinois CCA Conference on 12/9/20.