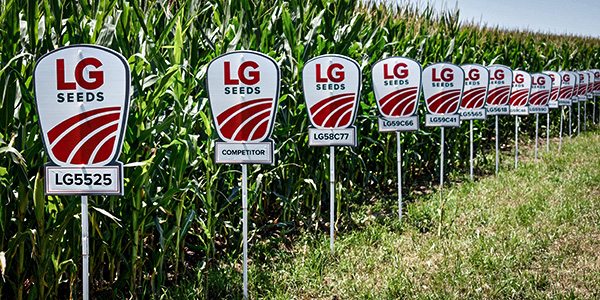 September Crop Progress in the Western Corn Belt
There have been significant changes in the crop conditions in Nebraska and Iowa since the last update. The drought across our area has spread and intensified in many places, and the derecho event on August 10th caused significant crop and property damage. A once promising crop has been decimated by the high winds, heat, and lack of rainfall throughout the last 5 weeks.
Most corn that was planted in the first half of the planting season is at black layer or will be soon due to the accelerated growing season. The high heat during grainfill may cause some smaller kernel weights as we get into harvest. Our subsoil moisture is about tapped out in many areas of the region, and we will need a strong recharge over the next 8 months to provide some cushion for the 2021 growing season.
Soybeans have also had a rapid finish to the season, and early maturity varieties are starting to turn and drop leaves. Full season soybeans could still add some seed size and bushels with some late rains here. We did see some Sudden Death Syndrome show up in areas that were cool and wet early in the growing season, and the new Saltro SDS treatment in our AgriShield Seed Treatment portfolio showed a good response, without any adverse early season effects.
The cumulative stress throughout the growing season has taken a toll on alfalfa stands, and growers should be scouting for stand health and winter survival prior to making decisions on hay fields. Healthy stands will likely benefit from fertility applications to meet soil level and crop removal needs. Aggressive scouting and management of in-season pests like Alfalfa Weevil and Potato Leafhopper will help increase productivity next year.
Here are updates from our TTAs throughout the region.
Scott Dugan – Central Nebraska
Crops are sprinting towards the finish line. The 2020 August has been one of the driest on record and is a huge contrast to the last year's August, which consisted of a cooler wetter weather pattern that benefited a longer grain fill period. Harvest has begun with some high moisture corn coming out this week and silage acres are finishing up. Corn stages are R5-R6. Irrigated acres should have good yields if stand wasn't affected by wind damage, but most dryland acres will be hurt severely or completely by the recent lack of rains. The lack of rain has also spurred up a lot of spider mite activity that has been evident in about every field. Corn is far enough along that foliar disease concerns are behind us and our main concern should be stalk quality going forward. LG62C35 and LG67C45 are two products that have continued to impress throughout the wind and drought conditions and are setup to have a great year! Soybeans stages are R7-R8. Had some areas where sudden death syndrome and Septoria brown spot took some yield away but overall disease has been moderate to low and expecting some good yields. We look forward to seeing the results and wish everyone a safe harvest season!
Jamie Kathol – Northeast Nebraska
We've made it to September and crop growth for both corn and soybeans are ahead of normal thanks to a combination a very dry and warmer than average month of August. Much of our area is showing extreme stress in both corn and soybeans. Silage cutting started in corn around the 23rd of Aug. The last week of August was in the 90's with no rain on dry fields and many dryland fields were almost too dry for silage by the end of the week. Dryland yields on corn should still be respectable, but dryland soybean yields will be the lowest we've seen in this area since 2012.
There hasn't been anything extreme to report as far as disease goes. Southern rust in corn started to fire up in mid-August but high heat and lower humidity during the last half of the month stopped it from getting too heavy or progressing above the ear. On the soybean side, there has been some frogeye leaf spot, but nothing severe. There was much less frogeye leaf spot than last year.
For insects, dry conditions brought in some pockets of spider mites and corn aphids in the corn. Corn rootworm beetle trapping is finished now, and numbers were higher this year than we've seen in this area for a while so rootworm is going to be a more important consideration this fall as hybrid selection is made for next year's crop. Soybean insect pressure has been pretty low the past month with the exception of soybean gall midge. I continue to hear more reports weekly from growers seeing this pest spread to more of their fields.
I've been walking quite a few test plots the past couple weeks and two of our Mix Makers hybrids LG59C66VT2RIB and LG62C35VT2RIB have impressed me. I'm really looking forward to watching the harvest results come in once the combines start rolling.
Mark Grundmayer – East Central and Southeast Nebraska
East central and southeast Nebraska crop conditions were, for the most part, in good condition the last week of July and early August. A drier weather pattern settled across most of the area and dryland crops slowly deteriorated in the second half of August. Irrigators were busy trying to keep up and those acres look very good. The last week of August was brutal for any dryland crop. Temperatures were in the 90's from the 21st through the 28th and pushed crop development at an extremely fast pace. Corn milk lines that were just starting to develop were pushed to ½ during this time, with a likely impact to kernel depth as well as test weight (particularly for dryland corn). Soybeans suffered as well, aborting pods on the upper nodes.
Silage chopping has started across the area and yield estimates range from 70 to over 200 bushels per acre. The forecast for the second week of September shows below average temperatures and few chances for rain. As harvest approaches, growers will need to scout their fields for any potential stalk rot issues, and schedule harvest accordingly. Fusarium, Physoderma and top die back are the main concerns at this time. Have a safe harvest and look forward to seeing LG Seeds performance!
Jeff Morey – Northwest Iowa
The corn and soybeans have advanced at a rapid pace over the last couple of weeks in NW Iowa. The heat that the crop received during Aug 21-28 was not what most of the corn and soybeans needed. Soybeans struggled to finish filling pods and didn't add any pods to the top of most plants with the moisture and heat stress. Corn plants began to senesce the last week of August, which was about a week earlier than most growers were hoping for this year. The far northern and far eastern parts of NW Iowa do look the best as they received a few more inches of rain on a timely basis this summer.
Growers that use silage for feeding cattle started cutting during that heat because of how fast some of the corn plants were already drying up. Most of them have switched to earlage at this point because of how dry the corn plants are now. Crop adjustors have put the yields at 130-230 bu/ac, depending on what type of soils were under the crop and whether or not they caught a rare rain shower. Early hand shelling has corn coming in at 25-30% moisture, with a 53-55 lb. test weight over the last week of August.
It will be important to take some time and scout corn fields now to prioritize each one for harvest. With the low soil moisture levels in most fields, it is highly likely that corn plants have pulled a lot of what they needed to fill out the ear from the stalk, and standability will be compromised.
Greg Peters – West Central and Southwest Iowa
Most of Iowa has entered drier conditions with drought ratings from abnormally dry to areas of severe drought. The exception is an area along the border with Missouri that is rated at normal. Yields have been impacted in the severe drought areas and we are close to finding out the impact the dryness has had on yields. Silage yield estimates in southwest Iowa have been in the 130 to 150 bushel per acre with some yields up to 200 bushels in fields following manure. A few fields have been harvested for wet corn in the extreme drought areas and some yield reports have been in the 70 to 80-bushel area. We have several areas that have received timely rainfall and the yield impact from the dry area will be minimized. Yield forecast from these areas have been in excess of 200 bushels per acre.
Yields have also been impacted by the windstorm that came through central Iowa on August 10th. Wind speeds reached up to 141 miles per hour and the impact on crops was extreme with many fields severely lodged. There are some areas that received hail as well and many of these fields have been rated at 0 yields and they are being tilled up. This has varied with insurance companies because some are requiring that the fields be harvested. These fields that have been tilled will have to be planted to soybeans next year because of pressure from volunteer corn. We took some ears from fields two days after the storm and did a paper towel germination test. The germination results showed that the germination from ears that were just starting to bring the milk line down had a germination rate of 90 to 100 percent. Exposure to soil and pathogens will lower these rates but the potential for competition to next year's crop, especially corn on corn, will be high. Besides competition from the volunteer corn plants, high residues and the potential for rootworm pressure from the volunteer corn will make corn on corn situations difficult.
Soybeans harvest will start in the area next week with producers that planted early varieties.
Jed Norman – North Central Iowa
The corn crop in the North Central Iowa territory is all over the board. The southern portion of the territory was hit hard with the Derecho on August 10th. We have everything you imagine that comes with wind gusts over 100 mph. Many farmers are still waiting for decisions to be made on how they are to proceed with this year's upcoming harvest. One major challenge will be getting corn to full maturity, and then getting it to dry down at all if we can. The corn crop in the northern part of my territory is still standing vertical, however, is dealing with some bad drought. We are finally getting a much-needed break from the high temperatures and anticipate getting to full black layer (R6) in the next couple of weeks. Disease pressure has been relatively quiet, except for a little Tar Spot, which became noticeable about a week ago.
Soybeans in North Central Iowa are finishing strong. Many fields are reaching that full seed growth stage (R6). With not having a lot of moisture we have seen very little disease pressure. Some beans are starting to show a little Sudden Death. This is mostly isolated near the driveways of the fields. Soybean aphid pressure has been light and spider mites never seemed to gain any traction. This year's soybean crop has some of the cleanest fields I've ever seen.
Dave Hoy – Northeast and East Central Iowa
In Northeast Iowa, the corn is coming along quicker due to lack of moisture. North of Hwy 20, yields are better than anticipated until you get closer to the Iowa-Minnesota line where the drought has taken the top off the yields. The Hwy 30 corridor is still reeling from the derecho and the yields show it. Many fields are turning brown or being disked under as total crop failure. What was a 250bu crop is now lucky to harvest half that. Diseases range from Tar Spot to Goss' Wilt being present but not in epidemic levels. Stalk quality will be an issue this fall primarily from the winds and drought.
Soybeans are starting to turn. The top of the plant might have pods if the field got some rain. But without those rains the top of the plant seems very sparse. Beans are fairly healthy with very little White Mold and slow progression of SDS.
Pod fill is coming along nicely, and beans seem to be of a good size where rain is present. In areas without the rain though the seed size is slightly smaller. Hoping for a few more rains to add a bit of size to the beans.
Bryant Luers – Southeast Iowa
Up until about a month ago I would have told you that we were looking at one of the best corn crops we have ever raised in SE Iowa. Fast forward that month and It's crazy to think how quickly that can turn. Since then we have received little to no rain and a Derecho rolled through part of my area destroying some very good-looking corn fields. The last two weeks has brought a big change to the look of the corn. With no rain the stalks are cannibalizing to fill the ear and so harvest is right around the corner in some areas. Doing some yield checks the last few weeks it looks to me as if this fall will be a highly variable one in SE Iowa!
Soybeans, just like the corn, have looked great since day 1 here in SE Iowa. The old saying is August rain makes the beans and we have received little to no rain in most of the area in August. This has led to some pod abortion on soybean plants. Earlier maturities (2.4-2.9) are rapidly turning and some don't seem to be far off from harvest. The beans are small, and I don't expect to see high yields out of the earlier beans this year. The later maturities (3.0-3.9) seem to be hanging in there and with the little shot of rain that we got this week might make all the difference on them. Once again, I think yields this fall on soybeans will be highly variable in SE Iowa.