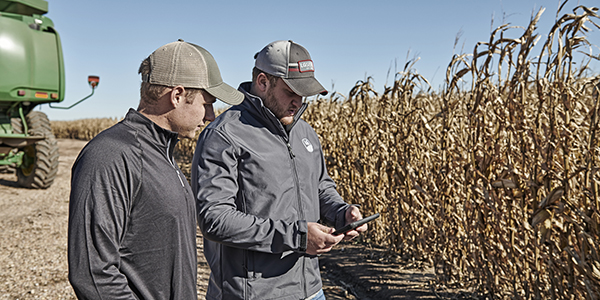 Planning for Harvest with Advantage Acre
With the spring that still seems ongoing, it is hard to look onward to start preparing for harvest, but as the fall months roll closer that is exactly what that task at hand brings. Advantage Acre® is a great tool to help plan a successful, and timely harvest.
With the wet, warm season we have had, several crucial factors are going to play a role in this year's harvest. Whether it be disease related, wet fields, or maturity changes there is no doubt we are faced with challenges not quite seen before. The growing season we have had has increased the risk for many diseases, including stalk rots. Scouting fields for stalk rots and knowing maturity dates can help reduce the risk of harvest loss.
Many fields were planted in a timely manner, but most were planted late, and with an earlier maturing than planned hybrid, or variety. Advantage Acre is a great tool utilizing a timeline that tracks temperature, and precipitation to determine growing degree units, and ultimately, crop growth stage. The Advantage Acre timeline allows us to enter in planting dates, and specific hybrids. These details are then calculated, and growth stages are measured for the whole growing season based on that specific hybrids' growth curve. The picture below shows the timeline of a hybrid containing the growth stages, GDU's, and showing the temperature, and rainfall predictions. Knowledge of when crops will reach maturity allows us to plan for certain situations: which fields to harvest first, grain drying situations, and several other management decisions.

Given the challenging year, there is still an opportunity to harvest a great crop in many areas. Being able to plan for as many events as possible will set you up for a successful harvest season.
For any questions, or if you would like to get more in depth help with Advantage Acre, contact your Technical Team Agronomist (TTA), or Sales Account Manager (SAM)