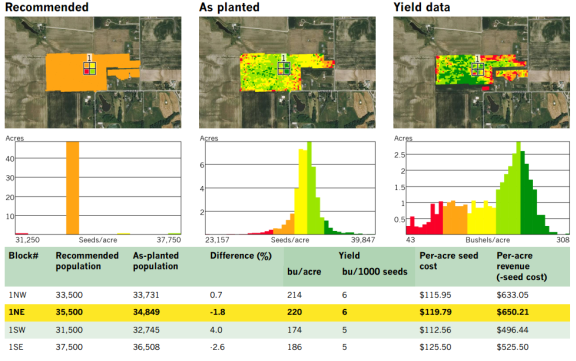 Advantage Acre - Post Harvest
With many farmers on the downhill slide of harvest, post-harvest data analyzation is going to be in the forefront for many operations. When it comes to yield data, we can look at so much more than just a pretty picture.
There are many different programs that can compare high yielding areas to the low yielding areas by looking at the field a mile wide and an inch deep. Advantage Acre® offers a unique way for us to interpret yield data.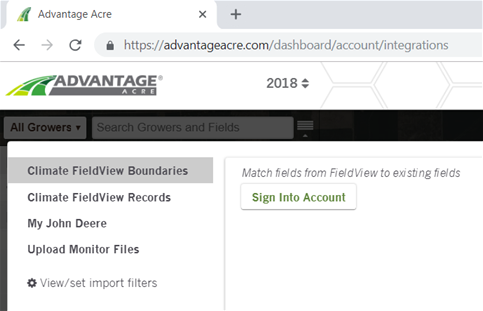 Advantage Acre offers several different options to get the data into the program. The first of the options is to integrate with Climate to bring over data that was integrated with the Climate Field View™ Drive. Another option for easy integration is through My John Deere synching with Advantage Acre. This is a seamless easy way to quickly bring over data for deeper investigation. The third option to get collected data into Advantage Acre is to utilize the drag and drop tool by using a memory stick to remove data from the cab monitor and dragging the field's data into the data import tab.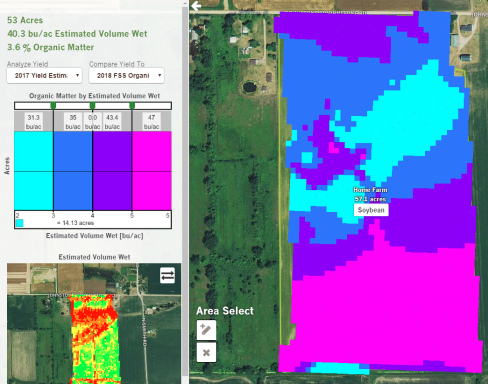 After the data is in Advantage Acre, it allows us to look at yield data more in-depth than many other platforms. Rather than just being able to compare the yield map to prior years, we can look more on the Functional Soils Survey side and compare yield to: CEC, pH, Organic Matter, Bottom Depth Horizon and Top Depth Horizon.
By being able to compare the yield data to many different items, we can get a better understanding for what is causing high yielding areas or what maybe dragging yields down. If we see a trend when the low-lying areas of the field are lagging, tile may be a good investment to help get water away. Another key standout would be to compare yield to organic matter. If we see a big variance in yield, consideration of changing the nitrogen program may be of best interest. Advantage Acre offers some different angles for us to shed light for what causes high and low yields.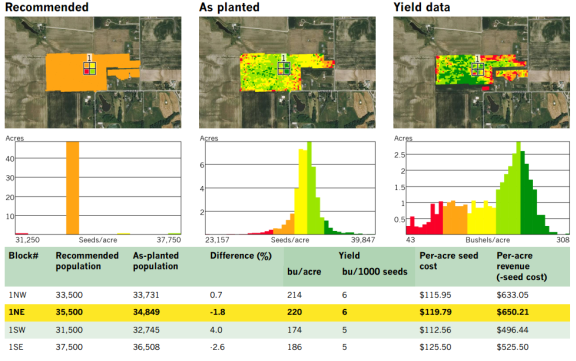 One new feature for Advantage Acre this fall would be to take an in-depth look at the Test Blocks that were planted on both the fixed rate fields as well as the fields that were planted at a variable rate. This will help us as we move forward with recommended populations for fields and soil types. Advantage Acre will be able to show us which populations were best suited for the highest yield, but also which area of the test block was the most profitable.
Advantage Acre is a great tool for looking into data post-harvest. By taking an in-depth look at your fields, we can try to maximize return on every acre of your farm. By combining your expertise of your land with Advantage Acre, our team at LG Seeds looks to capitalize on the tremendous yield potential that we have to offer!

Download a copy of this Technical Bulletin: Advantage Acre - Post Harvest


Note: The information in this issue is based upon field observations and third-party information. Since variations in local conditions may affect the information and suggestions contained in this issue, LG Seeds disclaims legal responsibility therefore. Always read and follow label instructions. LG Seeds and design are trademarks of AgReliant Genetics, LLC.
© 2018 AGRELIANT GENETICS, LLC. AgReliant Genetics and Advantage Acre are registered trademarks of AgReliant Genetics, LLC. Advantage Acre is a product of AgReliant Genetics, LLC. Climate FieldView™ is a trademark of The Climate Corporation. All other trademarks mentioned herein are property of their respective owners.