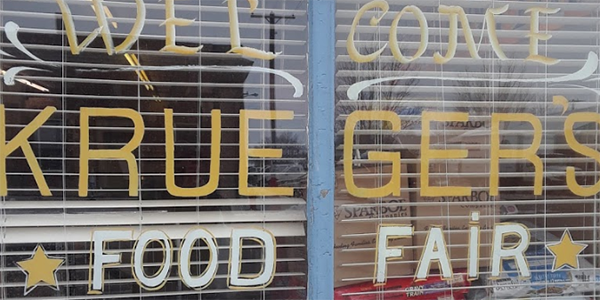 LG Seeds Awards Krueger's Food Fair with $1,000 Small Business Saturday Prize
Kyle Krueger got his foot in the door of the grocery business in eighth grade, and he's been there ever since.
"When I started I was stocking shelves, carrying out, bagging groceries, things like that. I always told the owner I wanted to buy his store, and he said I'd be the first one he called when he was ready to sell. And one day he called."
With 42 years in the grocery business and 20 of those years being the owner of Krueger's Food Fair, Kyle has seen plenty of changing consumer trends in his time.
"It's hard to remind people that we need our small businesses to support our community. Every time [a business] leaves, we feel that."
However, the community's perspective began to shift when 2020 unfolded. Kyle says that the pandemic made people enthusiastic about supporting small businesses again, and they made an extra effort to support the local community. Krueger's Food Fair did their part to support the community, too.
"We hold ourselves to a high standard, and we want the store to meet that standard, too. We made sure people knew they were safe in our store. We were wiping down carts all the time and doing everything we could to keep the store extra clean. We even started delivering groceries to people's houses if they weren't healthy or didn't feel comfortable being out. They'd just leave a check out for us, or we would settle up on their bill the next time they came to the store."
Above all, Kyle says what he loves about being in the grocery business is the relationships he creates with the community members.
"I like that small town feel. I like being able to see people in the store and ask how their daughter did in the basketball game last night. People are friendly, and I'm a talker so I always talk to them." Kyle said with a laugh.
When asked how this $1,000 Small Business Saturday prize from LG Seeds would support his business, Kyle had plenty of ideas.
"I've been wanting to put new windows in the front of the store, and there's always other little projects around the store to keep it looking nice. But honestly, anything extra we get like this is always appreciated and whenever I can I like to share that with my employees because I am very aware that I couldn't do this without them."
Krueger's Food Fair is located in Hoven, South Dakota and provides grocery services to the town of Hoven and surrounding areas. Kyle Krueger is the owner of the store.
LG Seeds, based in Westfield, Indiana, produces and sells leading corn, soybean, sorghum and alfalfa products through a network of professional STAR Partner dealers. The company started the Small Business Saturday $1,000 giveaway in an effort to support the rural communities their STAR Partner dealers do business in. To learn more, visit lgseeds.com or facebook.com/lgseeds.