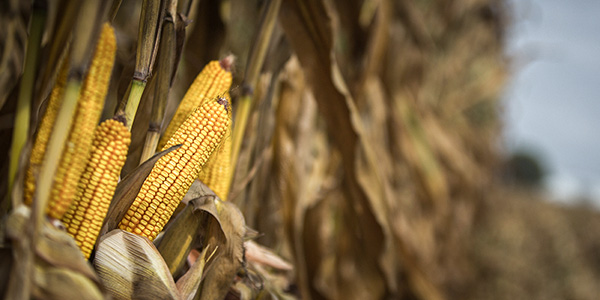 Crop Progress & Harvest Updates: Illinois, Indiana, Iowa, and the Mid-South
The LG Seeds Agronomy Team continues to provide harvest updates from around the country.
East Central Illinois
Many growers are just now finishing up corn harvest and will be switching to soybean harvest. Downed corn due to stalk lodging and quick grain dry-down prompted growers to "get their corn out first". One year ago, soybean harvest was nearly complete in East Central Illinois as of October 19th. Trait package selection for 2022 growing season is the question for many growers. They are deciding whether yield or spray liability should take precedence. The eventual harvest of soybean trials with head-to-head comparisons of XtendFlex vs Enlist should shed more insight on trait selection. Variable weather with intermittent and heavy rains has led to variable yields across central Illinois. Growers are reporting record yields on some fields yet seeing lower yields at other fields. A multitude of disease is present in this year's crop, including Gray Leaf Spot, Southern Rust, Northern Leaf Blight, Tar Spot and Anthracnose.
Northern Illinois
Harvest got off to a fantastic start along the State-line. Harvest is about 60-65% completed on soybeans and about 15-20% done on corn. So far soybean yields have been running 60-75BPA. Not a record but above many guy's APH. Corn yields have been variable (160-250BPA), but better than many growers expected considering many areas only saw 11-15" of water for the entire growing season. 57C33STXRIB has been a showstopper with its performance with multiple growers reporting whole field averages running 240+BPA. Xtendflex soybeans have really shined in plots taken off so far.
Western Illinois
Corn is about 60% harvested in Western Illinois. Stalk rot, Crown rot plus Tar Spot have been the dominant issues for harvest this Fall. Farmers that sprayed a fungicide are seeing 15-to-25-bushel yield increase. The corn plants still basically died down too early and didn't dry down so we are still seeing a 15 to 20 bushel yield loss from the average. Farmers that did not use a fungicide took a big hit on yield and are seeing big yield losses with combines running 2 mph trying to pick up the down corn. Soybeans are about 20% harvested and doing well with yields running 8-9 bushels better than we thought. On the bright side, LG Seeds has some good high yielding genetics with great natural tolerance to help hold off Tar Spot! Talk with your local LG Seeds Dealer or Salespeople for information on which hybrids to plant next year if your experiencing issues with this new disease.
Southern Illinois
So far, a lot of progress has been made on both the corn and soybean harvest across central and southern Illinois. Due to the higher temperatures and below average precipitation, many farmers were able to get a good start without the headaches of dealing with the mud. Early harvest observations in corn are showing that late applications of nitrogen are paying big dividends this year due to the above average rainfall experienced throughout the summer. Fungicides are also showing big returns. Moving south, fungicides helped fight off southern rust and as you move to the north it has helped minimize the damage of tar spot. We are also seeing a big difference in the types of fungicides being applied. Newer formulations with additional MOA and longer residual are doing a better job fighting off southern rust and tar spot, while giving the best ROI.
Corn hybrids in the area that have shown excellent performance this year are 59C72VT2, 60C47STX, 62C35VT2, 5650VT2, and 66C44VT2. This is mostly due to their high yield potential, but also because of their solid health package that has helped when dealing with Southern Rust and Tar Spot.
Soybean harvest is slightly behind corn harvest in the area. Due to the heavy disease pressure and fast dry down in corn, some growers opted to stay with corn. Soybean reports are anywhere from low 60's to mid 80's for soybean yields. The hot dry weather we had during the end of September made for dry soybeans testing 9-11%. A lot of fields still have a few green stems and leaves especially in later maturities making them tough to cut. Precipitation across the area should help bring moistures back up and take some of the green stems and leaves out of soybeans.
The Xtend varieties in the field such as 3550, 3777, and 4227 are doing exceptionally well this year. Growers who were able to manage the herbicide have also been very impressed with their weed control and yields. New Xtendflex varieties that are running right with them in plots are 3572XF, 3784XF, and 4188XF, bringing solid agronomics and top end yield.
Northern Indiana
Harvest took the week of 10/3 off due to almost daily rain. We dried out over the weekend and things are rolling again this week. Corn is around 20% harvested and soybeans are slightly ahead at ~25%. There have been some really great corn yields in areas that weren't hit hard with tar spot. Generally in the upper 200's. Areas that had tar spot and were sprayed with fungicide are still seeing above average yields but that top end was still hurt. If fungicides weren't sprayed, I'm seeing losses in the 100 – 150 bushels range and grain quality is very poor. A few key hybrids are standing up very nicely to tar spot with their exceptional health package! LG52C42, LG59C72 and LG64C20 are topping the yield charts in their respective maturity ranges!
We're seeing great performance with both our XtendFlex and Enlist lineup! Yields are ranging anywhere from the 60's to 80's depending on where you are. Some areas had an extended dry spell in August, and it did some damage, but yields are still generally a bit higher than what we were expecting. There haven't been any widespread reports of any significant disease issues this year. Only a bit of white mold and SDS in isolated occurrences. A few varieties that are catching my eye are LGS2830XF, LGS3253XF, LGS3430E3LGS3572XF and LGS3663E3.
Northern Iowa
Combines are just starting to peek their heads into some corn up here in northern Iowa. On the earlier maturities I've heard some moistures being in the upper teens. So far guys are pleased with what they are seeing. Last week I was in some fields where crown rot is starting to fully express itself, due to the drought, and will be an issue if we don't get the corn out soon. 54C76 and 59C72 have been really banging the gong in my plots. More to come in my next update.
Soybeans will be pretty much wrapped up in a week. Yields have been coming in better than expected if you caught some of our timely rains. We have been experiencing a lot of green stems which have made certain areas a challenge. Xtendflex and E3 soybeans have both been showing a tremendous amount of yield.
Eastern Iowa
Harvest is progressing well across the NE Iowa area. Silage chopping is done, and most growers are pleased with the results. Products like LG59C72 and LG59C66 tonned up well with great quality. Corn harvest continues. We are seeing an increase in stalk diseases. Anthracnose is growing in the stalks and could create some lodging issues. Plant health is beginning to be a major factor in hybrid decisions. Farmers are seeing the benefits of keeping those plant healthy longer. Products like LG57C97, LG54C76, and LG60C33 are really holding their health late into the fall.
Soybeans are 75% harvested. Yields range from 55 bpa – 85 bpa depending on rains and fungicide. Almost everyday growers tell me about fungicide trials they did on soybeans this year. Average increase in yield for fungicide application is 5-7 bpa. And a week longer wait until its ready to harvest. Enlist beans and Xtendflex beans are looking very good in the plots with similar yield results. I can't say one is better than the other right now. Either one will give great results.
Mid-South and Delta
Harvest has been pretty steady up until last week, with several areas getting rains that delayed the combines. Most of the corn harvest is complete in the Delta as growers are concentrating on the remaining rice crop and are getting a good start on cotton. Yields have been average to above average in most areas. Delayed planting in the spring in the Bootheel brought some yield levels down on beans but most guys are still happy with the results. LG4640XF and LG4808XF are performing well in this region
Western Tennessee and Kentucky got a good early start on corn harvest with some very good yield reports including several 300+ fields. New products like 66C44 and 60C47STX have been outstanding in most areas. Even though soybean planting was early, harvest has been a little slower than expected due to a variety of reasons.
Southern Indiana is on pace to wrap up most of the harvest before the end of October if the weather holds. New LGS3668E3 beans are being talked about a lot for their performance on the Enlist acres especially in SE Indiana.
With better than good yields and above average prices we hope our customers do indeed have a bountiful harvest!