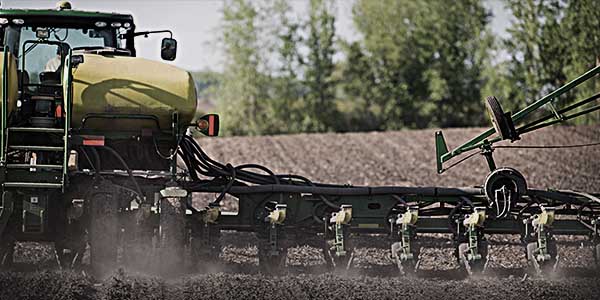 Advantage Acre® Test Blocks
What, why and how


Many farmers are preparing more than just their planters this spring - they are preparing their field-by-field plan. This plan includes anything from hybrid placement to variable rate planting prescriptions to variable rate nitrogen applications. While Advantage Acre® can cover all those bases, test blocks are a great place to start when it comes to developing a field-by-field plan.
What are test blocks?
Test blocks are two-acre squares divided into four, half-acre sections. Each section of the test block has a different population including: a static population or field average, +2,000 seeds per acre from that static or average, +4,000 seeds per acre and -2,000 seeds per acre. Test blocks can be exported for free and are able to be used with both fixed and variable rate planting maps. Variable rate planting prescriptions can be exported for only $1 per acre.
Why are test blocks important?
In this business, results count. Test blocks can help you maximize your results. Understanding the most efficient population for every field can help you adjust your field-by-field plan for a greater return on investment in the future.
How are test blocks created?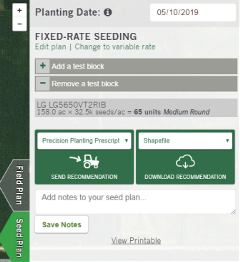 After you have selected hybrids and created a seed plan, the final step allows you to choose between static or variable rate planting, as shown below. Select "Add a test block" to place a test block in your field. Once added, test blocks can be moved throughout the field wherever you see fit. We recommend including at least three test blocks in each field in order to get the most actionable results. These blocks should be placed in high, medium, and low productivity environments, based on the Productivity Index in Advantage Acre®.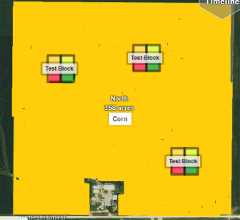 Once your map is created and test blocks have been placed throughout the field, you are ready to export the map to your tractor's monitor for planting. To export a map, simply select the "Send Recommendation" button to send wirelessly or the "Download Recommendation" button to save the file locally. From there, you can manually upload it to your monitor and begin learning more about the best planting population for your field.
Planting season is quickly approaching. If you are interested in learning more about your field with Advantage Acre® test blocks, call your local LG Seeds Sales Account Manager or Technical Team Agronomist to get started today.

Download a copy of this technical bulletin here: Advantage Acre Test Blocks