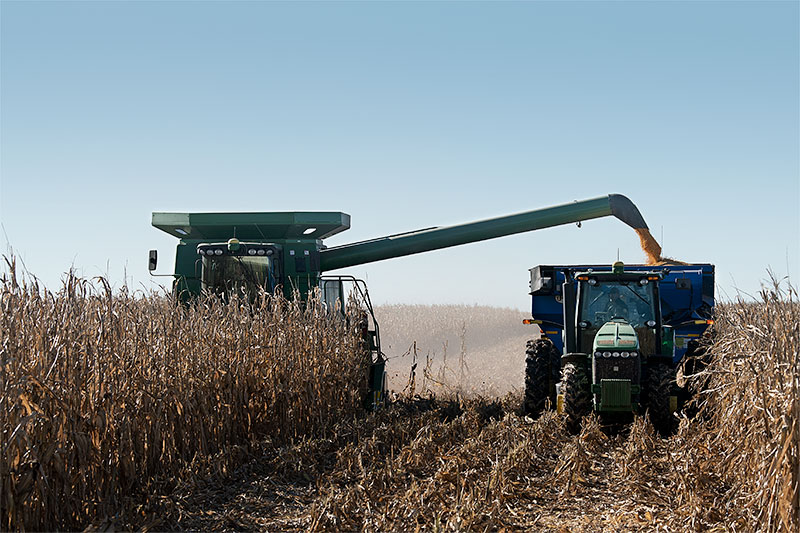 2018 Performance Summary
Growers throughout the country continue to be impressed with LG Seeds products that furnish high yields in a variety of environments. From east to west and north to south, LG Seeds products are proven to perform.
CORN
The weather, disease and insect challenges faced last year were mitigated by the strong performance, solid agronomics and high yields provided by LG Seeds corn hybrids. Growers found that utilizing a diverse product portfolio was an important piece of their risk management strategy, given the variability of the growing conditions last season. LG Seeds offers a diverse mix of genetic backgrounds, trait platforms and maturities that are key to this management plan.
Overall, the 2018 corn crop was taller than normal in some areas due to ideal growing conditions early in the season. In general, fuller season products saw peak performance within their geographic adapted maturity zones. In many areas, fungicides provided clear advantages due to increased pressure from leaf diseases. In addition, fungicides combated the spread of disease. Corn rootworm pressure was generally low, but larger beetle counts were observed. However, corn rootworm damage was still observed in areas, reminding growers of the importance and value of seed traits and resistance management. Heat and drought stress took its toll on some promising fields, leading to inconsistency of performance.
Planting date, rainfall, drainage, and soil type made a big difference this year. Hybrids that had good late season health, staygreen and fall intactness tended to come out ahead, while hybrids that tended to finish early seemed to be lacking this year. Overall, the 2018 corn crop was a record-breaking year for many, even with the challenges of weather, disease and insects.
CORN SILAGE
Silage Proven products from LG Seeds led the way in Milk per Ton and Milk per Acre analyses. These metrics for measuring the value of corn silage are a driving factor in determining if a corn hybrid is acceptable for use in a corn silage program. Many of LG Seeds proven grain products are also Silage Proven, and several are the top choice of many dairies.
SOYBEANS
LG Seeds soybeans performed was relatively well, outside of a few extremely dry areas. Weather variability was the main factor in both performance and maturity of the crop in 2018. Three years of record-breaking on-farm yields in a row are the result of favorable weather, improved genetics and the weed control of the Roundup Ready® 2 Xtend® soybean system.
Product selection, early planting, weed and pest control and crop rotation are keys to maximizing a soybean's yield potential. Seed treatment and fungicide applications are important considerations. Diseases like Sudden Death Syndrome and Sclerotinia White Mold were found at varying levels, testing farmer's management strategies.
As in corn, using a risk management strategy of planting several varieties paid dividends in the 2018 crop year. Disease resistance and tolerance, maturity and speed of canopy cover were important considerations that led producers to high yields last year.
SORGHUM
The addition of the Golden Acres sorghum line-up into the LG Seeds product portfolio offered a chance for more growers in Kansas and surrounding areas to plant and test sorghum plots on their farms. In 2018, LG Seeds had Golden Acres sorghum plots from the Rio Grande valley in Texas, to the plains of South Dakota, into California, and several states in between.
Sorghum performance was very good this year, with proven performers showing high yields, and new products yielding well against competitive checks. Sugarcane aphids continued their way into sorghum fields across the area, and even appeared in California sorghum plots. However, the infestation was generally late, and most areas saw less pressure and levels more manageable than what was seen 2-3 years ago. In contrast to 2017, Fusarium head blight was generally light throughout most of the geography and was not a notable issue overall. Sorghum midge did impact an area in southwest Kansas, but, for the most part, growing conditions were good, and yields were strong throughout the geography.
Overall, the launch year of LG Seeds supplying Golden Acres sorghum was a success. As a result, customer interest and inquiries about Golden Acres sorghum products from LG Seeds increased. LG Seeds plans to continue expanding our testing network in 2019 with a focus on earlier maturities, disease resistance, and sugarcane aphid tolerance.